Unifying Themes in Complex Systems
Overview Volume IIIA Proceedings from the Third International Conference on Complex Systems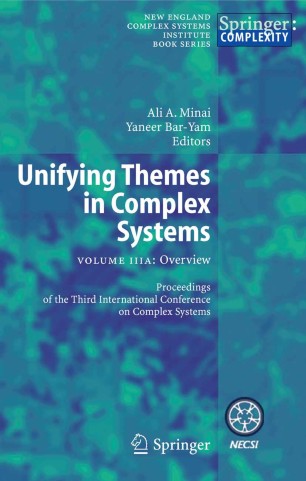 About these proceedings
Introduction
In recent years, scientists have applied the principles of complex systems science to increasingly diverse fields. The results have been nothing short of remarkable: their novel approaches have provided answers to long-standing questions in biology, ecology, physics, engineering, computer science, economics, psychology and sociology.
The Third International Conference on Complex Systems attracted over 400 researchers from around the world. The conference aimed to encourage cross-fertilization between the many disciplines represented and to deepen our understanding of the properties common to all complex systems.
This volume contains selected transcripts from presentations given at the conference. Speakers include: Chris Adami, Kenneth Arrow, Michel Baranger, Dan Braha, Timothy Buchman, Michael Caramanis, Kathleen Carley, Greg Chaitin, David Clark, Jack Cohen, Jim Collins, George Cowan, Clay Easterly, Steven Eppinger, Irving Epstein, Dan Frey, Ary Goldberger, Helen Harte, Leroy Hood, Don Ingber, Atlee Jackson, Stuart Kauffman, Jay Lemke, Simon Levin, Edward Lorenz, Ronnie Mainieri, David Meyer, Daniel Miller, Alan Perelson, Stuart Pimm, Stephen Small, Temple Smith, Eugene Stanley, Jeff Stock, Nam Suh, Duncan Watts and George Whitesides.
ALI MINAI is an Affiliate of the New England Complex Systems Institute and an Associate Professor in the Department of Electrical and Computer Engineering and Computer Science at the University of Cincinnati.
YANEER BAR-YAM is the founding president of the New England Complex Systems Institute. He is the author of Dynamics of Complex Systems and Making Things Work: Solving Complex Problems in a Complex World.
About NECSI:
For over 10 y ears, The New England Complex Systems Institute (NECSI) has been instrumental in the development of complex systems science and its applications. NECSI conducts research, education, knowledge dissemination, and community development around the world for the promotion of the study of complex systems and its application for the betterment of society. NECSI hosts the International Conference on Complex Systems and publishes the NECSI Book Series in conjunction with Springer Publishers.
Keywords
biocomplexity
complex system
complex systems
neural networks
self-organization
Bibliographic information
DOI

https://doi.org/10.1007/978-3-540-35872-5

Copyright Information

NECSI Cambridge, Massachusetts 2006

Publisher Name

Springer, Berlin, Heidelberg

eBook Packages

Physics and Astronomy

Print ISBN

978-3-540-35870-1

Online ISBN

978-3-540-35872-5