© 2019
Maritime Spatial Planning
past, present, future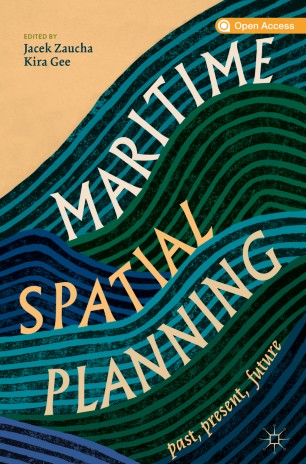 About this book
Introduction
This book is open access under a CC BY 4.0 license
Maritime or marine spatial planning has gained increasing prominence as an integrated, common-sense approach to promoting sustainable maritime development. A growing number of countries are engaged in preparing and implementing maritime spatial plans: however, questions are emerging from the growing body of MSP experience. How can maritime spatial planning deal with a complex and dynamic environment such as the sea? How can MSP be embedded in multiple levels of governance across regional and national borders – and how far does the environment benefit from this new approach?
This open access book is the first comprehensive overview of maritime spatial planning. Situated at the intersection between theory and practice, the volume draws together several strands of interdisciplinary research, reflecting on the history of MSP as well as examining current practice and looking towards the future. The authors and contributors examine MSP from disciplines as diverse as geography, urban planning, political science, natural science, sociology and education; reflecting the growing critical engagement with MSP in many academic fields. This innovative and pioneering volume will be of interest and value to students and scholars of maritime spatial planning, as well as planners and practitioners.
Jacek Zaucha is Professor of Economics at Gdánsk University, Poland. He is long experienced in maritime spatial planning, and is currently leading the team preparing the first plan for Polish waters.
Kira Gee is Research Associate at the Centre for Materials and Coastal Research (Helmholtz-Zentrum Geesthacht), Germany. She has been involved in MSP research and practice for over 20 years, and has participated in numerous national and transnational European MSP projects.
Keywords
marine spatial planning
marine governance
EU MSP Directive
social-ecological systems
integrated marine management
sustainable blue growth
land-sea interactions
blue sector growth
marine planning
open access
sustainable maritime development
urban planning
political science
environmental policy
Ecosystem-Based Management
Systematic Conservation Planning
Bibliographic information
Reviews
"Maritime Spatial Planning: Past, Present, and Future is a valuable resource and insightful read for interdisciplinary marine scientists, practitioners, managers, and policymakers alike. … this book provides a potent, yet accessible read on a complicated and diverse topic of MSP that, as the authors argue, is developed in the past, relevant to the present, and critical to the future of blue growth and blue space protection." (Sondra Eger, Ocean Yearbook, Vol. 34, 2020)