© 2019
Geothermal Energy and Society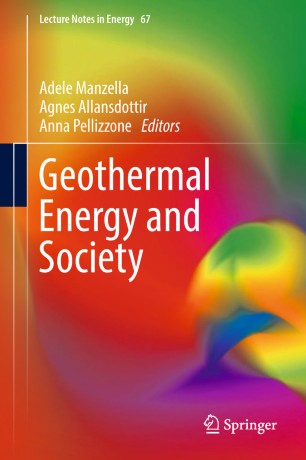 About this book
Introduction
This book addresses the societal aspects of harnessing geothermal resources for different uses, such as power production, heating and cooling. It introduces a theoretical framework for a social scientific approach to the field, and presents a preliminary collection of empirical case studies on geothermal energy and society from across the world. By providing a conceptual and methodological framework to the study of geothermal energy and societies, it brings together information and analyses in the field that to date have been sparse and fragmented.
The contributors explore the diverse aspects of the relationship between the harnessing of geothermal resources and the societies and local communities in which these developments take place. After introducing geothermal technologies, renewable energy concepts as well as their social and policy context and the regulative and environmental aspects of geothermal energy, the book analyzes and discusses twelve global case studies, and compares the social engagement tools applied with those used in other sectors.
Of interest to researchers from a range of disciplines who wish to explore the issues surrounding energy and society, it is also a valuable resource for geothermal experts and postgraduate students wish to study the field in greater detail.
Keywords
Social Acceptance of geothermal energy
Geothermal Energy
Public Engagement
Renewable Energies
Responsible Innovation
societal aspects of harnessing geothermal resources
Social Considerations in Geothermal Development
social impacts of geothermal energy
Public acceptance of geothermal energy
Bibliographic information