The Blind Spots of Public Bureaucracy and the Politics of Non‐Coordination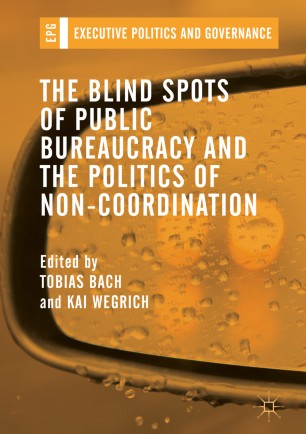 Table of contents
About this book
Introduction
How to better coordinate policies and public services across public sector organizations has been a major topic of public administration research for decades. However, few attempts have been made to connect these concerns with the growing body of research on biases and blind spots in decision-making. This book makes that connection. It explores how day-to-day decision-making in public sector organizations is subject to different types of organizational attention biases that may lead to a variety of coordination problems in and between organizations, and sometimes also to major blunders and disasters. The contributions address those biases and their effects for various types of public organizations in different policy sectors and national contexts. In particular, it elaborates on blind spots, or 'not seeing the not seeing', and different forms of bureaucratic politics as theoretical explanations for seemingly irrational organizational behaviour. The book's theoretical tools and empirical insights address conditions for effective coordination and problem-solving by public bureaucracies using an organizational perspective.
Tobias Bach
is Associate Professor of Public Policy and Administration at the Department of Political Science, University of Oslo, Norway.
Kai Wegrich is Professor of Public Administration and Public Policy at the Hertie School of Governance, Berlin, Germany.
Keywords
bounded rationality
organization theory
coordination
selective perception
bureaucratic politics
public sector organizations
unintended consequences
administrative limits
executive government
organization of bias
attention bias
complexity
hybridity
path dependency
myths and symbols
administrative leadership
professional integrity
goal attainment
system maintenance
Bibliographic information