© 2018
Discourse and Diversionary Justice
An Analysis of Youth Justice Conferencing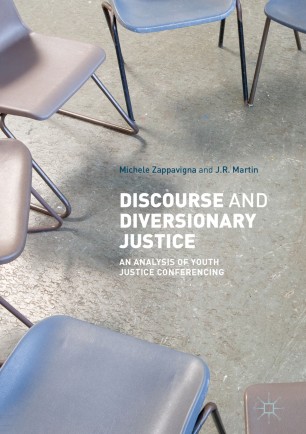 About this book
Introduction
This book analyses the Youth Justice Conferencing Program in New South Wales, Australia. Exploring this form of diversionary justice from the perspectives of functional linguistics and performance studies, the authors combine close textual analysis with ethnographic research methodologies. They examine how participants use the discourse semantic resources available to them to achieve such outcomes as reparation for the victim, reintegration of the offender into the community, and reconciliation between the various parties. This uniquely-researched work is sure to be of interest to students and scholars of applied linguistics, sociolinguistics and discourse analysis.
Michele Zappavigna is a senior lecturer in the School of Arts and Media at the University of New South Wales, Australia. Her major research interest is the discourse of social media, and she has published widely on this topic in a range of books and journals.
JR Martin is Professor of Linguistics at the University of Sydney, Australia. His research interests include systemic theory, functional grammar, discourse semantics, register, genre, multimodality and critical discourse analysis, focusing on English and Tagalog. He was elected a Fellow of the Australian Academy of the Humanities in 1998, and awarded a Centenary Medal for his services to Linguistics and Philology in 2003.
Keywords
restorative justice
young offenders
reintegrative shaming
social semiotics
identity
ceremonial redress
Bibliographic information