A Global Overview of the Conservation of Freshwater Decapod Crustaceans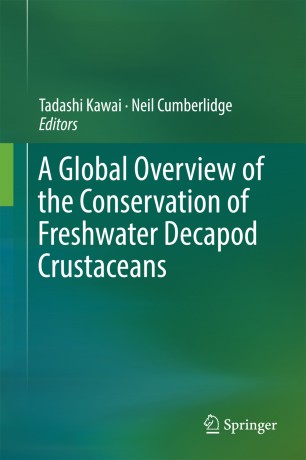 About this book
Introduction
This book introduces updated information on conservation issues, providing an overview of what is needed to advance the global conservation of freshwater decapods such as freshwater crabs, crayfish, and shrimps.
Biodiversity loss in general is highest in organisms that depend on intact freshwater habitats, because freshwater ecosystems worldwide are suffering intense threats from multiple sources. Our understanding of the number and location of threatened species of decapods, and of the nature of their extinction threats has improved greatly in recent years, and has enabled the development of species conservation strategies.
This volume focuses on saving threatened species from extinction, and emphasizes the importance of the successful implementation of conservation action plans through cooperation between scientists, conservationists, educators, funding agencies, policy makers, and conservation agencies.
Keywords
Aegla
Conservation action
Evolution
Freshwater decapod
Global diversity
Shrimps
Crustacea
Biotechnology
Biocontrol
Bibliographic information