© 2016
Murder on the Einstein Express and Other Stories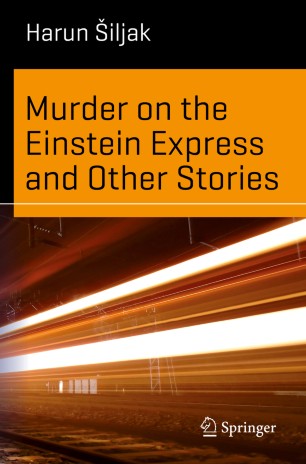 Table of contents
About this book
Introduction
This collection of stories touches upon many genres: Normed Trek is a clever and witty Alice-in-Wonderland-type narrative set in the realm of mathematical analysis, The Cantor Trilogy is a dystopia about the consequences of relying upon computer-based mathematical proofs, In Search of Future Time bears the flavor of Tales from Arabian Nights set in the future, and – last but not least - Murder on the Einstein Express is a short, non-technical primer on probabilities and modern classical physics, disguised as a detective story.
Written primarily for an audience with some background or a strong interest in mathematics, physics and computer science (in particular artificial intelligence), these stories explore the boundaries between science and fiction in a refreshingly unconventional fashion. In the Afterthoughts the author provides some further insights and annotations.
Harun Šiljak got his BoEE and MoEE degrees at the Department of Control and Electronics, University of Sarajevo and his PhD in Signal Processing at the Electrical and Electronics Engineering Department, International Burch University, Sarajevo, where he is currently an assistant professor. He has been working in basic sciences (mathematics and physics) since elementary school, qualifying twice for the International Mathematical Olympiad and once for the International Physics Olympiad. Some of his science fiction and popular science stories have been published in the Mathematical Intelligencer and in the Journal of Humanistic Mathematics.
Keywords
AI dystopia
Science fiction in mathematics
Science fiction in computer science
Laplace's demon
Humanistic mathematics
Bibliographic information
Reviews
"Well, this was different: A book written in mathematics. lt was divided into four stories, each of which with math (mainly higher math) as its main concept. … if the reader is a mathophile, and enjoys taking reading up a notch, this short romp through the mathematical should be a surprisingly fun read." (Francine Jackson, Planetarian, Vol. 47 (1), March, 2018)