© 2015
Advances in Architectural Geometry 2014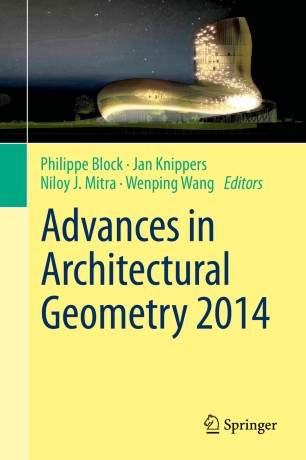 Table of contents
About these proceedings
Introduction
This book contains 24 technical papers presented at the fourth edition of the Advances in Architectural Geometry conference, AAG 2014, held in London, England, September 2014. It offers engineers, mathematicians, designers, and contractors insight into the efficient design, analysis, and manufacture of complex shapes, which will help open up new horizons for architecture.
The book examines geometric aspects involved in architectural design, ranging from initial conception to final fabrication. It focuses on four key topics: applied geometry, architecture, computational design, and also practice in the form of case studies. In addition, the book also features algorithms, proposed implementation, experimental results, and illustrations.
Overall, the book presents both theoretical and practical work linked to new geometrical developments in architecture. It gathers the diverse components of the contemporary architectural tendencies that push the building envelope towards free form in order to respond to multiple current design challenges.
With its introduction of novel computational algorithms and tools, this book will prove an ideal resource to both newcomers to the field as well as advanced practitioners.
Keywords
algorithms
architectural geometry
bio-inspired design
computational design
construction sequence
engineering
fabrication
form finding
geometry processing
numerical optimization
Bibliographic information