© 2021
The Palgrave Handbook of Comparative Economics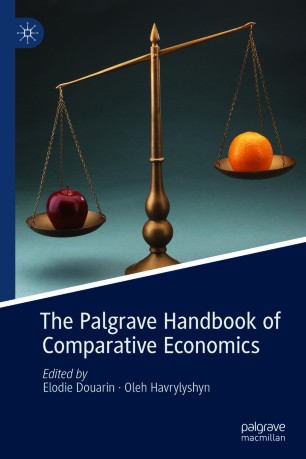 Table of contents
About this book
Introduction
"A book full of insights on economic systems and how to transit from one to another. A good Reference Manual for academics and policy-oriented researchers, with many useful tools to understand our changing world."
Claudia Senik, Full Professor at Sorbonne University and Paris School of Economics.
"An invaluable guide to the post-communist economic transition and to the research it inspired, by a range of the leading experts from academia and policy circles."
Daniel Treisman, Professor of Political Science, University of California, Los Angeles.
"This volume is another proof, if you needed one, that the comparative perspective enormously enriches the social sciences. The volume thankfully brings together scholars with very different approaches allowing the reader to make up his or her own mind about their usefulness in explaining observations and helping us improve the world."
Professor Erik Berglof, Director, Institute of Global Affairs, LSE School of Public Policy.
This book aims to define comparative economics and to illustrate the breadth and depth of its contribution. It starts with an historiography of the field, arguing for a continued legacy of comparative economic systems, which compared socialism and capitalism, a field which some argued should have been replaced by institutional economics after the fall of the Berlin Wall. The process of transition to market capitalism is reviewed, and itself exemplifies a new combination of comparative analysis with a focus on institutional development. Going beyond, chapters broadening the application of comparative analysis and applying it to new issues and approaches, including the role and definition of institutions, subjective wellbeing, inequality, populism, demography, and novel methodologies. Overall, comparative economics has evolved in the past 30 years, and remains a powerful approach for analyzing important issues.
Keywords
Comparative Economics
New Comparative Economics
Comparative Economic Systems
Post-Communist Transition
Comparative methods
Transition economics
Bibliographic information