The Pope, the Public, and International Relations
Postsecular Transformations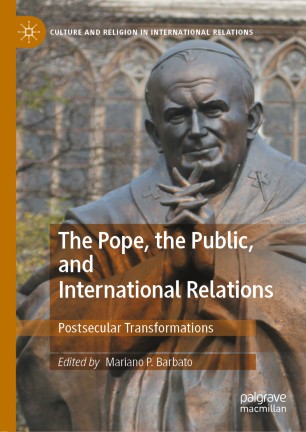 About this book
Introduction
"The Papacy" and "modernity" are two terms that rarely intersect in international relations, but it will be impossible to ignore the former's impact on the latter -- and vice versa -- after reading this fascinating book. Through multiple forms of intertextual analysis, from a stroll through Paris to the Pope's Twitter feed to examinations of individual Popes and the Papacy's impact in radically different parts of the world, this book reconfigures our conceptions of time and space to foreground the dynamic nature of Papal politics in contemporary world politics.
– Cecilia M. Lynch, University of California, Irvine, USA
This is not the first IR work paying attention to the Holy See. None, however, matches this volume, edited by one of the most promising IR scholars of his generation, Marian Barbato. The volume is multidisciplinary, not "monochrome," but very colorful with contributors from many countries with the background not just in IR or political science […].
The multidisciplinary tesserae the contributors put together into a mosaic is an alternative to the foundational IR narrative excluding or playing down religion. You are invited to re-think Western history; you are led to consider new perspectives on the global transformation. The Holy See is a "hybrid actor" on the world scene, merging religious and political but also international and transnational elements. In the uncertain fluid 21st century, with the use of media technology, there may be others.
– Vendulka Kubalkova, University of Miami, Florida, USA
This volume engages a long-standing religious power, the Holy See, to discuss the impact of the structural, post-secular transformations of international relations. Despite the legal construction of the Holy See as a distinct legal entity, it is also the tool of the papacy to address a transnational or a global public. Instead of understanding these hybrid roles as an irregular exemption, the contributions of the book argue that the Holy See should be seen as a normal actor of international and public diplomacy.
Mariano P. Barbato is Heisenberg Fellow at the Center for Religion and Modernity, University of Münster, and Associate Professor of Political Science at the University of Passau, Germany.
Keywords
Holy See
Catholic Church
Diplomacy
Governance
Transnational
Bibliographic information