Child Soldiers and the Defence of Duress under International Criminal Law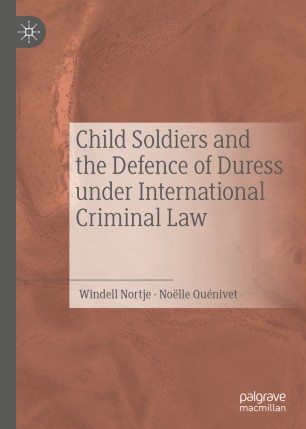 About this book
Introduction
This book investigates the use of duress as a defence in international criminal law, specifically in cases of child soldiers. The prosecution of children for international crimes often only focuses on whether children can and should be prosecuted under international law. However, it is rarely considered what would happen to these children at the trial stage. This work offers a nuanced approach towards international prosecution and considers how children could be implicated and defended in international courts. This study will be of interest to academics and practitioners working in international criminal law, transitional justice and children's rights.
Windell Nortje is Associate Lecturer in the Law Faculty at the University of the Western Cape, South Africa.
Noëlle Quénivet is Associate Professor in International Law at the Bristol Law School, University of the West of England, UK.
Keywords
international criminal law
child soldiers
duress
defending children
conflict studies
armed conflict
terrorism
international politics
national criminal law
international crimes
ICC statute
acquittals
childhood
crimes against humanity
Individual criminal responsibility
juvenile criminal responsibility
minors
Recruitment of child soldiers
conflict
Presumption of innocence
Bibliographic information