© 2019
Mario Bunge: A Centenary Festschrift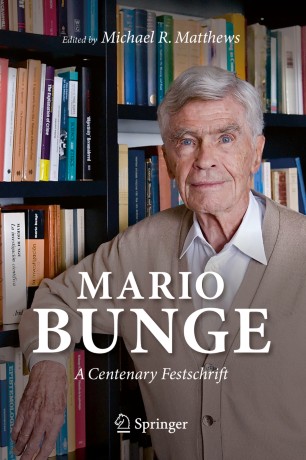 About this book
Introduction
This volume has 41 chapters written to honor the 100th birthday of Mario Bunge. It celebrates the work of this influential Argentine/Canadian physicist and philosopher. Contributions show the value of Bunge's science-informed philosophy and his systematic approach to philosophical problems.
The chapters explore the exceptionally wide spectrum of Bunge's contributions to: metaphysics, methodology and philosophy of science, philosophy of mathematics, philosophy of physics, philosophy of psychology, philosophy of social science, philosophy of biology, philosophy of technology, moral philosophy, social and political philosophy, medical philosophy, and education. The contributors include scholars from 16 countries.
Bunge combines ontological realism with epistemological fallibilism. He believes that science provides the best and most warranted knowledge of the natural and social world, and that such knowledge is the only sound basis for moral decision making and social and political reform. Bunge argues for the unity of knowledge. In his eyes, science and philosophy constitute a fruitful and necessary partnership. Readers will discover the wisdom of this approach and will gain insight into the utility of cross-disciplinary scholarship. This anthology will appeal to researchers, students, and teachers in philosophy of science, social science, and liberal education programmes.
Keywords
Leibnizian Precedents
Contemporary Cognitive Science
Enlightenment Education Tradition
context of contemporary cognitive studies
Bunge´s truth theory
Quantitative Epistemology
Dual Axiomatics
Principle of parsimony
Psychophysical identity hypothesis
Scientific-Humanistic Ethics
Their Proper Conceptualization
Bunge's Legal Philosophy
Dual Axiomatics
scientific anthropology
Bungean systemic ontology
Information and Communication Technologies
mechanistic epistemology
Systemist Perspective
Ethics and Political Theory
Engelsian Dialectical
Bibliographic information