© 2019
Clinical Guide to Psychiatric Assessment of Infants and Young Children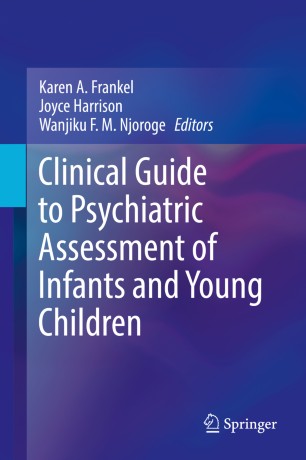 About this book
Introduction
This book provides a clinical guide to the psychiatric assessment of infants and young children, birth through five years, and their families. It offers a comprehensive, data-rich framework for conducting mental health assessments of infants, toddlers, and preschoolers. The book includes a step-by-step guide for evaluation and assessment, reviewing relevant literature and best practices for working with very young children. It begins with an overview of the purpose and principles of psychiatric assessment and offers a protocol for planning and executing a thorough evaluation. Chapters examine critical aspects of the assessment process, including children's relationships with parents/caregivers, assessment of parents, cultural considerations, and play behaviors. Chapters also provide illustrative case vignettes and information on specialized tools that can be adapted for use in a private office or training clinic.
Topics featured in this book include:
Play-based assessment models for accessing the inner world of young children.

The effect of caregivers and their reflective functioning on the mental health of young children.

The use of adult-report rating scales in the clinical assessment of young children.

Psychopharmacologic considerations in early childhood.
The Clinical Guide to Psychiatric Assessment of Infants and Young Children is a must-have resource for researchers, clinicians, and related professionals, and graduate students in infancy and early childhood development, pediatrics, social work, psychiatry, and public health.
"The volume is both highly practical and up to date, impressively bridging the gap between science and practice. The book is an invaluable guide for students and trainees and an important reference for seasoned clinicians."
David Oppenheim, Ph.D., University of Haifa
"The book integrates relational, developmental and social-emotional health dimensions within each chapter, reviewing subjective and objective measures in a range of domains. The book is clear and user-friendly. I wholeheartedly recommend it!"
Daniel S. Schechter, M.D., New York University School of Medicine
"
This important new volume provides multiple perspectives on the entire range of assessment methods and procedures used in early childhood mental health. This is a vital read for students and practitioners.
"
Charles H. Zeanah, M.D., Tulane University
Keywords
Clinical assessment and formulation of treatment plans
Clinical infant mental health
Culture and psychiatric assessment of infants and young children
Diagnosis of infant mental health problems
Early Childhood Screening Assessment (ECSA)
Evaluation of infant mental health problems
Infant and early childhood mental health
Interviewing techniques for infants and very young children
Medication assessment of infants and very young children
Observational assessment of infants and very young children
Parent-child relational assessment
Preschool mental health
Psychiatric assessment of infants and very young children
Psychiatric assessment of parent-child relationships
Psychiatric assessment of preschoolers
Psychiatric diagnosis for infants and very young children
Psychopharmacological treatment of very young children
Screening tools for infants and very young children
Standardized interviews of caregivers and children
Treatment planning for infants and very young children
Bibliographic information
Book Title

Clinical Guide to Psychiatric Assessment of Infants and Young Children

Editors

Karen A. Frankel
Joyce Harrison
Wanjiku F.M. Njoroge


DOI

https://doi.org/10.1007/978-3-030-10635-5

Copyright Information

Springer Nature Switzerland AG

2019

Publisher Name

Springer, Cham

Hardcover ISBN

978-3-030-10634-8

eBook ISBN

978-3-030-10635-5

Edition Number

1

Number of Pages

XX, 367

Number of Illustrations

13 b/w illustrations, 0 illustrations in colour
Reviews
"This information-packed volume presents integrative and up to date assessment approaches in infant and early childhood mental health. The chapters cover the entire assessment process from the initial contact with the family, through history taking and a review of a wide variety of assessment tools and methods, leading to diagnosis and case formulation. Importantly, throughout the book the critical importance of forming safe and warm relationships with the child and her family are emphasized as essential for an accurate appreciation of the child's difficulties. The volume is both highly practical and up to date, impressively bridging the gap between science and practice. The book is an invaluable guide for students and trainees doing their first steps in the field, and an important reference for seasoned clinicians who will be able to consult it around assessment dilemmas and questions." (David Oppenheim, PhD, Salt Lake City, USA)
"Professionals and trainees alike offer the biggest of thanks to Karen A. Frankel, Joyce Nolan Harrison, and Wanjiku F. M. Njoroge for this wonderful book that is a precious resource on the assessment of infants, young children, their relationships with their parents and families in all their complexity. The book integrates relational, developmental and social-emotional health dimensions within each chapter, reviewing subjective and objective measures in range of domains. The book is clear and user-friendly. I wholeheartedly recommend it!" (Daniel S. Schechter, M.D. Barakett Associate Professor of Child & Adolescent Psychiatry, New York University School of Medicine, and Director of the Geneva Early Childhood Stress Project, University of Geneva Faculty of Medicine, Switzerland)
"This important new volume provides multiple perspectives on the entire range of assessment methods and procedures used in early childhood mental health. This is a vital read for students, practitioners, those concerned with program development, and for everyone who wants to appreciate the range and reach of our approaches to diagnosis, formulation and treatment planning." (Charles H. Zeanah, M.D. Professor of Psychiatry and Pediatrics, Vice Chair for Child and Adolescent Psychiatry, New Orleans, USA)