Contemporary Israeli–Turkish Relations in Comparative Perspective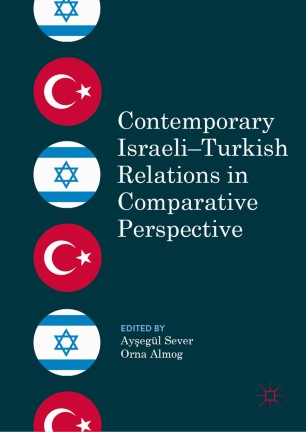 About this book
Introduction
This edited volume explores the Israeli-Turkish relations in the 2000s from a multi-dimensional perspective providing a comparative analysis on the subjects of politics, ideology, civil society, identity, energy, and economic relations. The contributors from both countries offer insights on the complex situation in the Middle East which is important for the understanding of the contemporary region. The work will appeal to a wide audience including academics, researchers, political analysts, and journalists.
Ayşegül Sever is Professor of International Relations at Marmara University, Turkey. Currently, she is Visiting Scholar at London School of Economics IDEAS, UK.

Orna Almog is an independent researcher. Most recently, she was Senior Lecturer in Politics and International Relations at Kingston University London, UK.

Keywords
Israeli-Turkish Relations
Israel
Turkey
Mavi Marmara
Eastern Mediterranean
Syria
Energy Relations between Turkey and Israel
Israel and Turkey
Bibliographic information