© 2019
Critical Infrastructure Security and Resilience
Theories, Methods, Tools and Technologies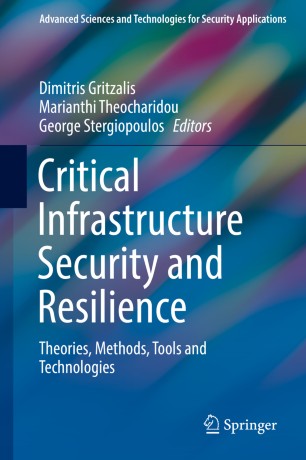 Table of contents
About this book
Introduction
This book presents the latest trends in attacks and protection methods of Critical Infrastructures. It describes original research models and applied solutions for protecting major emerging threats in Critical Infrastructures and their underlying networks. It presents a number of emerging endeavors, from newly adopted technical expertise in industrial security to efficient modeling and implementation of attacks and relevant security measures in industrial control systems; including advancements in hardware and services security, interdependency networks, risk analysis, and control systems security along with their underlying protocols.
Novel attacks against Critical Infrastructures (CI) demand novel security solutions. Simply adding more of what is done already (e.g. more thorough risk assessments, more expensive Intrusion Prevention/Detection Systems, more efficient firewalls, etc.) is simply not enough against threats and attacks that seem to have evolved beyond modern analyses and protection methods.

The knowledge presented here will help Critical Infrastructure authorities, security officers, Industrial Control Systems (ICS) personnel and relevant researchers to (i) get acquainted with advancements in the field, (ii) integrate security research into their industrial or research work, (iii) evolve current practices in modeling and analyzing Critical Infrastructures, and (iv) moderate potential crises and emergencies influencing or emerging from Critical Infrastructures.
Keywords
Critical Infrastructure Protection
Information Systems Management
Industrial Control Systems
Infrastructure Resilience
Control Systems Security
Network Infrastructure Security
Infrastructure Interdependencies
Risk Assessment
Bibliographic information