CNS Cancer
Models, Markers, Prognostic Factors, Targets, and Therapeutic Approaches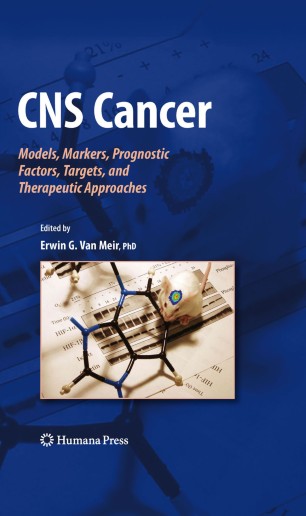 Table of contents
About this book
Introduction
CNS Cancer: Models, Markers, Prognostic Factors and Therapeutic Approaches
Erwin G. Van Meir
Cancers of the central nervous system are among the most lethal of human neoplasms. They are recalcitrant to even intensive multimodality therapies that include surgery, radiotherapy and chemotherapy. Moreover, especially in children, the consequences of these therapies can itself be devastating and involve serious cognitive and developmental disorders. It is small wonder that such cancers have come under the intense scrutiny of each of the subspecialties of clinical care and investigation as well as attracting some of the best basic research scientists. Their joint efforts are gradually peeling away the mysteries surrounding the genesis and progression of these tumors and inroads are being steadily made into understanding why they resist therapies.This makes it an especially opportune time to assemble some of the best investigators in the field to review the "state of the art" in the various arenas that comprise the assault on CNS tumors. While the lethality of these tumors has remained dismal over the past decades, there is finally real reason for optimism as our knowledge base grows exponentially larger.
The major areas of this endeavor are displayed in CNS Cancer: Models, Markers, Prognostic Factors and Therapeutic Approaches. Each of the chapters in the book represents illustrative examples of the road from discovery through translation to clinical importance, although many begin the journey at different parts of this continuum. This includes several chapters on incredibly clever mouse models for deciphering the genetic wiring underlying the development of CNS tumors and how that wiring might be targeted for therapeutic benefit. A great deal of attention has been paid in the book to the development of genetic prognostic factors and biomarkers that could be used for assessing individual responses to therapies and so could lead to truly personalized medicine. Other possible prognostic factors/biomarkers that arise from an understanding of CNS tumor pathophysiology are discussed in some detail and include tumor vascularization and hypoxia. Several of the new and rapidly developing methodologies that allow these rapid advances are detailed for the reader as well and include RNA expression profiling, proteomic analyses of both tumors and biological fluids as well as profiling small non-coding RNAs and DNA modification. Finally, several chapters explore aspects of therapeutic targeting employing small molecules and combinations thereof, various sorts of cells, viruses and immune modulation. In sum, these treatises represent the cutting edge of research that is driven to be of benefit to patients with these dreaded diseases.
Erwin G. Van Meir is Professor of Neurosurgery and Hematology & Medical Oncology in the School of Medicine at Emory University. A native of Belgium, he obtained Bachelor's degrees in Biology and Education at the University of Fribourg, Switzerland. Dr Van Meir is an active member of the International Neuro-Oncology community and served on the Board of Directors of the Society for Neuro-Oncology from 2004-2008. Dr. Van Meir currently serves on the Editorial Board of Neuro-Oncology, Frontiers in Bioscience, and International Journal of Oncology and is a former Associate Editor of the International Journal of Cancer. He has served as a reviewer for over 30 international scientific journals and for grant proposals from public and private agencies.
Keywords
CNS
Nervous System
angiogenesis
brain
brain tumor
brain tumors
cancer
cell
hypoxia
imaging
oncogenes
research
resistance
transplantation
tumor
Bibliographic information
DOI

https://doi.org/10.1007/978-1-60327-553-8

Copyright Information

Humana Press 2009

Publisher Name

Humana Press

eBook Packages

Medicine

Print ISBN

978-1-60327-552-1

Online ISBN

978-1-60327-553-8