© 2014
Intraoperative Imaging and Image-Guided Therapy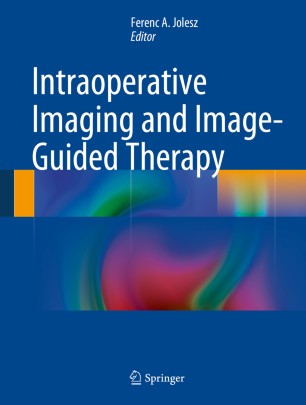 Table of contents
About this book
Introduction
Image-guided therapy (IGT) uses imaging to improve the localization and targeting of diseased tissue and to monitor and control treatments. During the past decade, image-guided surgeries and image-guided minimally invasive interventions have emerged as advances that can be used in place of traditional invasive approaches. Advanced imaging technologies such as magnetic resonance imaging (MRI), computed tomography (CT), and positron emission tomography (PET) entered into operating rooms and interventional suites to complement already-available routine imaging devices like X-ray and ultrasound. At the same time, navigational tools, computer-assisted surgery devices, and image-guided robots also became part of the revolution in interventional radiology suites and the operating room.
Intraoperative Imaging and Image-Guided Therapy explores the fundamental, technical, and clinical aspects of state-of the-art image-guided therapies. It presents the basic concepts of image guidance, the technologies involved in therapy delivery, and the special requirements for the design and construction of image-guided operating rooms and interventional suites. It also covers future developments such as molecular imaging-guided surgeries and novel innovative therapies like MRI-guided focused ultrasound surgery.
IGT is a multidisciplinary and multimodality field in which teams of physicians, nurses, and other professionals, such as physicists, engineers, and computer scientists, collaborate in performing these interventions, an approach that is reflected in the organization of the book. Contributing authors include members of the National Center of Image-Guided Therapy program at Brigham and Women's Hospital and international leaders in the field of IGT.
The book includes coverage of these topics:
- Imaging methods, guidance technologies, and the therapy delivery systems currently used or in development.
- Clinical applications for IGT in various specialties such as neurosurgery, ear-nose-and-throat surgery, cardiovascular surgery, endoscopic surgery, and orthopedic surgery.
- Review and comparison of the clinical uses for IGT with conventional methods in terms of invasiveness, effectiveness, and outcome.
- Requirements for the design and construction of image-guided operating rooms and interventional suites.
Keywords
Abdomen
Bone
Brain
Breast
Cardiovascular
Image Guided
Interventional
Intra-operative
Intraoperative
MRI
Neurosurgery
Orthopedics
Prostate
Radiology
Spine
Surgery
Bibliographic information
Reviews
"This is an excellent book on all kinds of imaging techniques for brain, urologic, cardiac, and orthopedic surgery. … Engineers, physicists, students, and surgeons will find the full color pictures helpful. I highly reccommend this for surgical approaches employed in Minimally invasive surgeries, i.e. to be a guide for mapping and planning." (Joseph J. Grenier, Amazon.com, September, 2015)
"This is a large book running to almost 900 pages. … the book provides a fascinating glimpse of how imaging may be used, both now and in the future, to increase the accuracy, efficacy and safety of therapeutic techniques. … it would be a valuable addition to any radiology library where the younger generation of radiologists, radiographers and physicists may find inspiration for future career decisions." (Nick Reading, RAD Magazine, January, 2015)