Frontiers in Brain Repair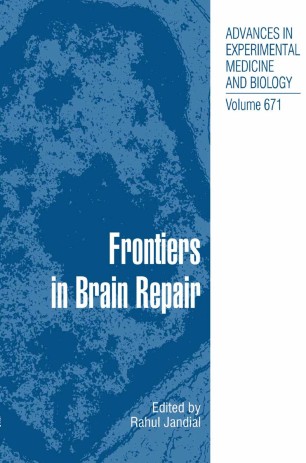 About this book
Introduction
In the rapidly-evolving landscape of neurosciences, it is no easy task to select a limited array of topics to present in a text such as this. The current volume takes as its purpose to provide a representative survey of the current science of brain repair for those seeking to establish a foundation in the field or to replenish a prior knowledge base that may have lapsed in its currency. It also hopes to offer insights into what remains elusive to our collective investigations, defining the "frontiers" of brain repair for those that are currently immersed in the exciting intersection of biological advances and neuroscientific discoveries.
In Chapter 1 the fundamentals of imaging transplanted cells is discussed with emphasis on animal models as well as the horizon for clinical trials. Then, detailed methods on the culture of neural stem cells is reviewed as a foundation for approaching therapeutic goals. Chapter 3 presents the broad scope of animal models that serve as the foundation for developmental and pre-clinical investigation, with mention of recent genetically engineered mouse models that represent the best models for studying disease development and treatment. Chapter 4 provides background on the delivery techniques to animals and patients that are available, providing vital information on the subtleties of technique necessary for optimal cellular grafting. Chapters 5 and 6 discuss new and evolving information on the origins of brain tumors and the indelible role of stromal and microenvironmental influences on oncogenesis and tumor progression. Subsequently, the utility of neural stem cells as cellular vehicles to deliver chemotherapeutics to broad neuropathology is reviewed. In Chapter 8 the scope of treating brain tumors is expanded beyond stem cells, to present the best biological interventions to improve upon current treatment options for brain malignancy. The last two chapters present a comprehensive review on stem cell and gene therapy options for treating cerebrovascular and neurovascular pathology.
In amassing this collection, my intention has been to provide the reader with a broad introduction into molecular imaging, stem cell biology, cell therapy, animal models, central nervous system malignancies, stroke, and neurodegeneration. My hope is that Frontiers of Brain Repair will be the intellectual soil from which a deeply rooted and well-nourished vintage of neuroscience will arise.
Keywords
Nervous System
Vivo
cell biology
influence
neuropathology
neuroscience
Bibliographic information