© 2003
Benvenuto Cellini
Sexuality, Masculinity, and Artistic Identity in Renaissance Italy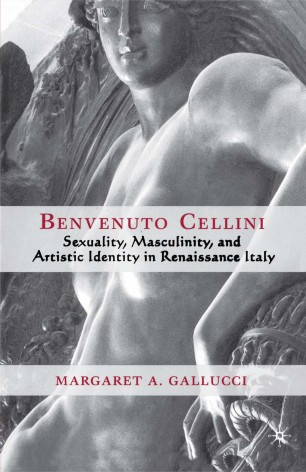 About this book
Introduction
Celebrated goldsmith and sculptor of the Italian Renaissance, Benvenuto Cellini (1500-71) fits the conventional image of a Renaissance man: a skillful virtuoso and courtier; an artist who worked in marble, bronze, and gold; and a writer and poet. Using the methodologies of New Historicism, social history, and gender and sexuality studies, this book places Cellini and his cultural production in the context of contemporary discourses about sexuality, law, magic, masculinity, and honor. In his life and literary oeuvre, the notorious artist, rogue, and sodomite aligned himself with the transgressive and oppositional voices of his day.
Keywords
gender
history
identity
law
New Historicism
poet
poetics
poetry
Renaissance
modern history
New Historicism
poet
poetics
poetry
Renaissance
Bibliographic information
Reviews
"Gallucci taps a wide and varied body of contemporary and secondary sources in an effort to avoid anachronism in repositioning the writer-artist in a broader and more comprehensive context . . . Gallucci's groundbreaking discussions on the legal aspects of sodomy, a problem avoided by all but a few Cellini scholars (Paolo Rossi, for example) are of particular interest to scholars seeking to separate the historical man from his autobiographical persona." - Gwendolyn Trottein, Canadian Art Review
"This fascinating new look at Benvenuto Cellini offers a thoroughly innovative approach to, and understanding of, the man Jacob Burckhardt called a wholly recognizable prototype of modern man. " - Konrad Eisenbichler, CAA Reviews
"A fascinating read . . .a brilliant rethinking of his autobiography . . .Gallucci s cross-disciplinarity marks this book as the kind of cutting-edge scholarship needed to revitalize traditional historical work." - Juliana Schiesari, Annali d Italianistica
"The most intriguing chapter of Gallucci s study addresses the role of violence in Cellini s self-representation." - Ian Frederick Moulton, Huntington Library Quarterly
"
"Gallucci succeeds brilliantly at integrating a variety of approaches, placing the swashbuckling bisexual Cellini and his cultural production in the context of contemporary discourses about law, magic, virility, and honor." - James M. Saslow
"Evocative [and] astonishing. Within the framework of New Historicism and sexual and gender studies, Gallucci puts forth new scholarship in areas, such as Cellini s literature and poetics." - Cristina Colasanto, US Italia