Active Assessment: Assessing Scientific Inquiry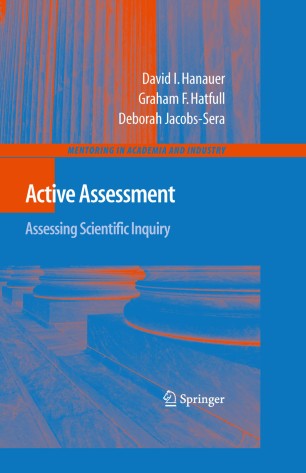 About this book
Introduction
Active Assessment describes an innovative approach to the assessment of scientific inquiry. The approach is termed active assessment and is based on the idea that scientist-educators can create authentic assessments that enhance engagement in the educational process and provide meaningful assessment data on student learning. This book deals with a specific educational context – the in-laboratory, scientific inquiry, educational program - and addresses ways to assess knowledge development and outcomes within this setting. The book is divided into two sections. In the first section a clear theoretical introduction to the conceptual and practical aspects of scientific inquiry assessment are presented. Active Assessment offers new insights into the understanding of both scientific inquiry and the assessment of scientific inquiry. The second section of the book provides a case study in which active assessment was used and developed. The specific program addressed is the PHIRE (Phage Hunting Integrating Research and Education) program situated at the University of Pittsburgh. This program is defined and the overall assessment strategy and specific assessment tools are described. This book provides a clear, practical and comprehensive understanding of issues involved in scientific inquiry assessment.
Dr. David Ian Hanauer is an educational researcher and the Assessment Coordinator in the PHIRE program and a Professor of English at the Graduate Program for Composition and TESOL at Indiana University of Pennsylvania
Dr. Graham F. Hatfull is the Prime Researcher and Program Director of the PHIRE program. He is the Eberly Family Professor of Biotechnology Professor of Biology, an HHMI Professor and currently the Chair of the Department of Biological Sciences at the University of Pittsburgh.
Ms. Deborah Jacobs-Sera is the Coordinator of PHIRE Program.
Keywords
Methodologie
education
science
Bibliographic information