Active Processes and Otoacoustic Emissions in Hearing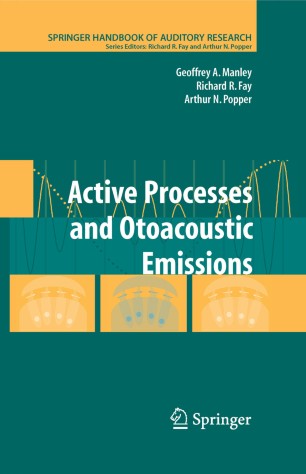 About this book
Introduction
Sounds that are actually produced by healthy ears allow researchers and clinicians to study hearing and cochlear function noninvasively in both animals and humans. Active Processes and Otoacoustic Emissions in Hearing presents the first serious review of the biological basis of these otoacoustic emissions. Active processes, such as those in hair cells that produce emissions, represent a burgeoning and important area of sensory research. By providing a basis for understanding how and why otoacoustic emissions testing works through a basic understanding of general hearing processes, this volume will also interest clinicians, particularly otolaryngologists and audiologists.
Contents:
Otoacoustic Emissions - Origins David Kemp

Traveling Waves, Second Filters and Physiological Vulnerability: A Short History of the Discovery of Active Processes in Hearing Nigel P. Cooper, James O. Pickles and Geoffrey A. Manley

Critical Oscillators as Active Elements in Hearing Thomas A. J. Duke and Frank Jülicher

Active Hair-Bundle Motility of the Hair Cells of Vestibular and Auditory Organs Pascal Martin

The Morphological Specializations and Electromotility of the Mammalian Outer Hair Cell Richard Hallworth and Heather C. Jensen-Smith

Active Processes in Insect Hearing Martin Göpfert and Daniel Robert

Otoacoustic Emissions in Amphibians, Lepidosaurs and Archosaurs Geoffrey A. Manley and Pim van Dijk

Otoacoustic Emissions: Basic Studies in Mammalian Models Brenda Lonsbury-Martin and Glen Martin

Mechanisms of Mammalian Otoacoustic Emission Christopher A. Shera and John J. Guinan, Jr.

Cellular and Molecular Mechanisms in the Efferent Control of Cochlear Nonlinearities Ian J. Russell and Andrei N. Lukashkin

Cochlear Models Incorporating Active Processes Stephen Neely and Duck On Kim

Relations between Otoacoustic and Psychophysical Measures of Cochlear Function Tiffany A. Johnson, Michael P. Gorga, Stephen T. Neely, Andrew J. Oxenham and Christopher A. Shera

Otoacoustic Emissions as a Diagnostic Tool in a Clinical Context Thomas Janssen and Jörg Müller

Future Directions in the Study of Active Processes and Otoacoustic Emissions Geoffrey A. Manley and William E. Brownell
About the editors:
Geoffrey A. Manley, Lehrstuhl fur Zoologie, Technical University of Munich, Garching, Germany. Richard R. Fay is Director of the Parmly Hearing Institute and Professor of Psychology at Loyola University of Chicago. Arthur N. Popper is Professor in the Department of Biology and Co-Director of the Center for Comparative and Evolutionary Biology of Hearing at the University of Maryland, College Park.
About the series:
The Springer Handbook of Auditory Research presents a series of synthetic reviews of fundamental topics dealing with auditory systems. Each volume is independent and authoritative; taken as a set, this series is the definitive resource in the field.
Keywords
Otoacoustic
Otoacoustic Emmisions
SHAR
cells
hearing
Bibliographic information
DOI

https://doi.org/10.1007/978-0-387-71469-1

Copyright Information

Springer Science+Business Media, LLC 2008

Publisher Name

Springer, New York, NY

eBook Packages

Biomedical and Life Sciences Biomedical and Life Sciences (R0)

Print ISBN

978-0-387-71467-7

Online ISBN

978-0-387-71469-1

Series Print ISSN

0947-2657