Reclaiming the Land
Rethinking Superfund Institutions, Methods and Practices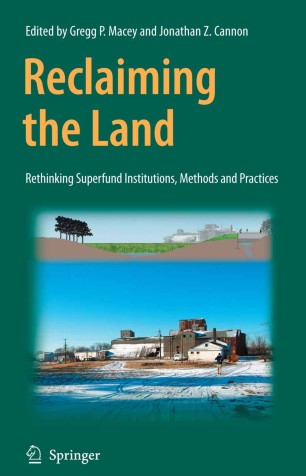 About this book
Introduction
Nearly thirty years after creation of the most advanced and expensive hazardous waste cleanup infrastructure in the world, Reclaiming the Land provides a much-needed lens through which the Superfund program should be assessed and reshaped. Focusing on the lessons of adaptive management, it explores new concepts and tools for the cleanup and reuse of contaminated sites, and for dealing with the uncertainty inherent in long-term site stewardship. Its contributors include scholars and practitioners representing many decades of experience with the Superfund program as well as a variety of disciplines.
"This excellent collection provides a range of perspectives on making the Superfund program work even better for the American people. The unifying concept of adaptive management offers broad, generally applicable ways of improving cleanup and reuse of many types of contaminated sites."
- Carol M. Browner, Principal, The Albright Group and Former Administrator, United States Environmental Protection Agency
"From Love Canal to the present day, no topic has cast a longer shadow across the American environmental landscape than the Superfund program and the challenge of cleaning up toxic waste sites. Reclaiming the Land covers the full range of Superfund issues with both historical perspective and a dynamic set of forward-looking reform proposals. It is essential reading for anyone and everyone in the environmental arena."
- Daniel C. Esty, Professor, Yale University
"This book represents the most comprehensive critical analysis of how the Superfund program can remain a relevant and meaningful part of this nation's environmental arsenal. Rather than maintaining the status quo, adapting to the changed conditions in which this vital statute is implemented now and in the future is the only logical way to proceed. We owe it to the communities this law was designed to protect to seriously consider these recommendations."
- Elliott P. Laws, Counsel, Pillsbury Winthrop and Former Assistant Administrator, Solid Waste and Emergency Response, United States Environmental Protection Agency
"Reclaiming the Land represents an important contribution to the literature on environmental stewardship in general, and hazardous waste site cleanup in particular. Appropriate focus is placed on institutional approaches, community involvement, and the iterative approach of adaptive management, with contributions from landscape architects, urban planners, systems engineers, economists, and leaders in business and government agencies."
- Mitchell J. Small, H. John Heinz III Professor of Environmental Engineering, Carnegie Mellon University
Gregg P. Macey is a Lecturer in the Department of Urban and Environmental Planning at the University of Virginia, where he teaches environmental economics, land use law and policy, and environmental justice. He is also an attorney with the law firm Kirkland & Ellis. He holds a J.D. from the University of Virginia and will receive his Ph.D. in urban planning from MIT. Prior to law school, he worked as a land use mediator.
Jonathan Z. Cannon is Professor and Director of the Environmental and Land Use Law Program at the University of Virginia Law School. He was formerly in the private practice of environmental law and also served in a number of senior positions at the U.S. Environmental Protection Agency, including most recently General Counsel. He was Director of the Center for Expertise for Superfund Site Recycling at the University of Virginia.
Keywords
CERCLA
Environmental economics
Integration
Recycling
adaptive management
brownfields
contaminated land
ecosystem
environmental protection
superfund site management
Bibliographic information
DOI

https://doi.org/10.1007/978-0-387-48857-8

Copyright Information

Springer Science+Business Media, LLC 2007

Publisher Name

Springer, Boston, MA

Print ISBN

978-0-387-48856-1

Online ISBN

978-0-387-48857-8