© 2006
Friedrich Nietzsche (1844–1900)
Economy and Society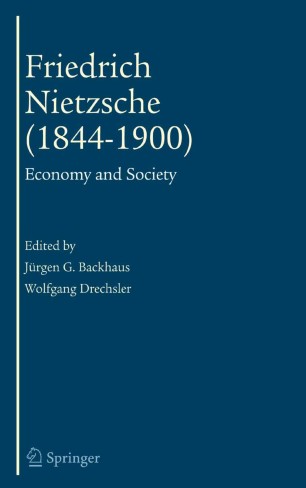 Table of contents
About this book
Introduction
Until now, Friedrich Nietzsche's influence on the development of modern social sciences has not been well documented. This volume reconsiders some of Nietzsche's writings on economics and the science of state and in doing so pioneers a line of research not previously available in English.
Here, twelve scholars consider Nietzsche's historical and contemporary relevance, which has ranged from the highly serious (Schumpeter writings on creative destruction) to the pop cultural (the early works of Ayn Rand). Several papers present strong evidence of Nietzsche as an influencer of modern economists; others see him more as an influencer of influencers; and one sees little influence at all. Most of the contributions refer extensively to works previous unpublished (or poorly translated) in English.
The editors do not intend to present a thorough overview or definitive description of Nietzsche's place in economics. Rather, they hope to initiate conversations and research that explore the role this much misunderstood philosopher/cultural critic may have played, or perhaps should play, in the history of economic thought.
Keywords
Business Ethics
Democracy and Aristocracy
Justice
Nietzsche Debate in the GRD
Nietzsche and Economics
Philosophy
Schumpeter
Social Selection
creative destruction
Bibliographic information