© 2006
Managing Care: A Shared Responsibility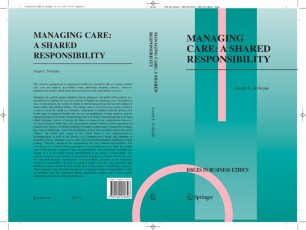 About this book
Introduction
The effective management of appropriate health care should be able to contain medical care costs and improve accessibility while addressing rationing concerns. However, managed care in the United States has not lived up to the expectations set for it.
Managed care quickly gained popularity among employers and public policy makers as a mechanism for curbing the excessive growth of health care insurance costs. Nonetheless, since its introduction, the system of largely for-profit managed care has been the subject of much public and political debate. The change from a fee-for-service system toward a system in which the health care insurance component is combined with the delivery of a broad range of integrated health care services for populations of plan enrollees that are financed prospectively from a limited budget has been widely criticized and has even been called repugnant. Instead of placing the blame on managed care organizations, however, we need to keep in mind that such organizations operate without societal agreement on critical issues such as a workable definition of health, an authoritative standard for defining the scope of entitlements, and on the distribution of labor between public and private sector entities. The health care system in the United States is also characterized by decentralization as well as the absence of a comprehensive health care planning or budgeting system, substantive access rules, and agreed-upon minimum health care benefit package. Therefore, managed care organizations only have limited responsibilities. The nonexistence of a shared, unifying paradigm of responsibility has been called the leading cause of the inability to manage health care appropriately. The stakeholders in health care operate on a set of widely varying interpretations of the notion of responsibility. The concept of genuine responsibility, recognizing the complexity of health care and the need for stakeholder-specific interpretations of responsibility, proposes as the underlying premise of responsibility (at least in regard to health care) the social agreement that distributive choices should be made on the basis of the premise of deliberate reciprocity. When all parties share the same foundation on which the notion of responsibility is built the resulting trust and cooperation among stakeholders enables them to find morally appropriate solutions in reforming health care.
"This book that is at the same time provocative and important. It proposes to change the way we think about deploying healthcare resources. It will accomplish its goal for readers who are willing to be challenged at a basic level. Intellectually sound and a very good read too."
Mark Pastin, Ph.D., President, Council of Ethical Organizations, Health Ethics Trust
"Dr. Verheijde has crafted the best study of the ethics of managed healthcare in more than a decade."
Glenn McGee, Ph.D., the John A. Balint Professor of Medical Ethics, Editor-in-Chief, The Americann Journal of Bioethics, and Director, Alden March Bioethics Institute.
Keywords
Business
Change
Ethics
Management
Medical Ethics
autonomy
bioethics
evidence based medicine
health
managed care
morality
organization
planning
social justice
Bibliographic information