© 2002
System-on-a-Chip Verification
Methodology and Techniques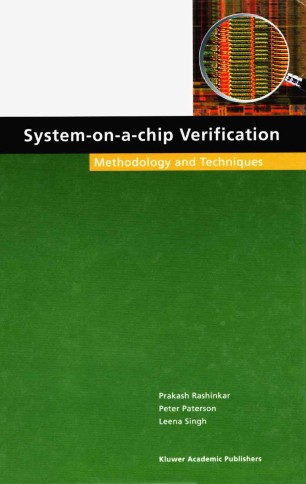 About this book
Introduction
System-On-a-Chip Verification: Methodology and Techniques
is the first book to cover verification strategies and methodologies for SOC verification from system level verification to the design sign- off. The topics covered include Introduction to the SOC design and verification aspects, System level verification in brief, Block level verification, Analog/mixed signal simulation, Simulation, HW/SW Co-verification, Static netlist verification, Physical verification, and Design sign-off in brief. All the verification aspects are illustrated with a single reference design for
Bluetooth
application.
System-On-a-Chip Verification: Methodology and Techniques
takes a systematic approach that covers the following aspects of verification strategy in each chapter:
Explanation of the objective involved in performing verification after a given design step;
Features of options available;
When to use a particular option;
How to select an option; and
Limitations of the option.
This exciting new book will be of interest to all designers and test professionals.
Keywords
Bluetooth
FPGA
Field Programmable Gate Array
Hardware
Signal
Software
analog
calculus
design
integrated circuit
model
model checking
simulation
system on chip (SoC)
verification
Bibliographic information