Handbook of Advanced Magnetic Materials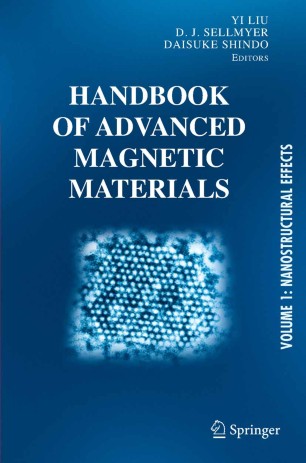 About this book
Introduction
From high-capacity, inexpensive hard drives to mag-lev trains, recent achievements in magnetic materials research have made the dreams of a few decades ago reality. The objective of Handbook of Advanced Magnetic Materials is to provide a timely, comprehensive review of recent progress in magnetic materials research. This broad yet detailed reference consists of four volumes:
1.) Nanostructured advanced magnetic materials,
2.) Characterization and simulation of advanced magnetic materials,
3.) Processing of advanced magnetic materials, and
4.) Properties and applications of advanced magnetic materials
The first volume documents and explains recent development of nanostructured magnetic materials, emphasizing size effects.
The second volume provides a comprehensive review of both experimental methods and simulation techniques for the characterization of magnetic materials.
The third volume comprehensively reviews recent developments in the processing and manufacturing of advanced magnetic materials. With the continuous search for new materials and invention of new processing routes, magnetic properties of materials now span a wide spectrum of soft magnetic materials, hard magnetic materials, recording materials, sensor materials and others.
The fourth volume provides a comprehensive review of recent development of various newly emerging magnetic materials and their applications, along with a detailed description of the processing, properties and applications. Finally, with an eye to the future, the potential and limitation of the materials is addressed.
Emphasis is on the processing, experimental investigation, theoretical understanding, and application of nanostructured magnetic materials. The chapters, authored by worldwide known specialists, provide an introduction into the topics and review the latest advances in magnetic nanostructures and materials. This includes emerging new materials, scientific methods, and experimental techniques. The coverage is very broad and includes nanostructural effects, characterization and simulation, fabrication and processing, and properties and applications of advanced magnetic materials.
Each chapter will have an introduction to give a clear definition of basic and important concepts of the topic. The details of the topic are then elucidated theoretically and experimentally. New ideas for further advancement are then discussed. Sufficient references are also included for those who wish to read the original work. Many of the authors are well known senior scientists working in the field of magnetism and magnetic materials.
This will be a valuable reference and research tool for graduate students and researchers in physics, materials science and chemistry to achieve an understanding of recent research developments in the field of magnetic materials.
Keywords
Cluster
Magnetic field
Mössbauer spectroscopy
alloy
crystal
electron microscopy
metal
microscopy
modeling
nanoparticle
neutron scattering
spectroscopy
thermodynamics
thin film
Bibliographic information
DOI

https://doi.org/10.1007/b115335

Copyright Information

Springer US 2006

Publisher Name

Springer, Boston, MA

eBook Packages

Physics and Astronomy

Print ISBN

978-1-4020-7983-2

Online ISBN

978-1-4020-7984-9