Neuroendocrine Correlates of Sleep/Wakefulness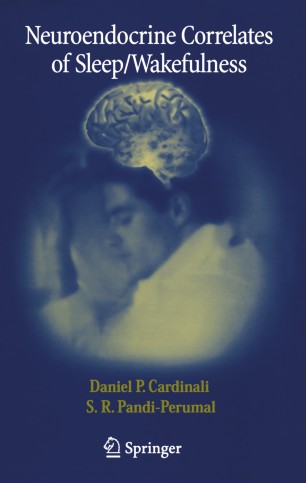 About this book
Introduction
"A fascinating set of reviews, many of theoretical interest or practical import. 21st Century neurobiology will concentrate on modulating arousal states, as examined in this book. Further, the subject is amenable to thorough genetic analysis, this providing a useful output for modern molecular neurobiology."
Donald W. Pfaff, Ph.D., The Rockefeller University
"Sleep is an essential biological activity that is intimately connected to the neuroendocrine, autonomic and immune systems of the body. Written by an international cadre of researchers, this timely volume gives an up-to-date summary of the reciprocal influences of sleep-waking activity on neuroendocrine, autonomic and immune function. Chapters in this volume discuss the many mediators involved in sleep regulation, the consequences of sleep deprivation and shift work and dysregulation of neuroendocrine function in sleep-related disorders, among other topics. It should be a valuable resource for basic and clinical researchers."
Bruce S. McEwen, Ph.D., The Rockefeller University
Neuroendocrine Correlates of Sleep/Wakefulness emerges from three well-established disciplines - neuroendocrinology, neurochemistry of sleep/wakefulness, and sleep medicine...The readers will find also in depth information on neuroendocrine and behavioral correlates of sleep deprivation, circadian rhythms, affective disorders, obstructive sleep apnea, restless legs syndrome and infectious diseases. Daniel P. Cardinali and S.R. Pandi-Perumal have edited a book that is clear, comprehensive, well balanced and remarkably complete. This volume will be of interest to a wide circle of readers including neuroendocrinologists, neurologists, psychiatrists psychologists and sleep medicine specialists who evaluate and/or treat patients with sleep disorders.
Jaime M. Monti, M.D., Clinics Hospital, School of Medicine
" When I first saw the title of this scholarly, up-to-date, and comprehensive multi-author book on the Neuroendocrine Correlates of Sleep and Wakefulness , I could not but think of a 400 BCE tome similarly entitled On Sleep and Sleeplessness, by Aristotle. How far has science gone in understanding the mechanisms of sleep and wakefulness and the pivotal physiologic and pathologic roles of sleep? Sleep and wakefulness constitute major homeostatic systems, whose proper function is crucial to the health and happiness of the individual. Both systems operate at the intersection of the nervous, endocrine, metabolic and immune systems, and their homeostatic mediators include all kinds of molecules, such as neurotransmitters, neuropeptides, hormones and cytokines. This book succeeds in providing, to large extent, the state-of the-art robust knowledge in this important area of science and medicine".
George P. Chrousos, M.D., University of Athens, Athens and National Institute of Child Health and Human Development, National Institutes of Health, Bethesda MD
Keywords
Cardinali
Correlates
Nervous System
Neuroendocrine
attention
homeostasis
neuroendocrinology
neuroscience
psychiatry
sleep
wakefulness
Bibliographic information