© 2019
Including the Excluded in South Asia
Power, Politics and Policy Perspectives from the Region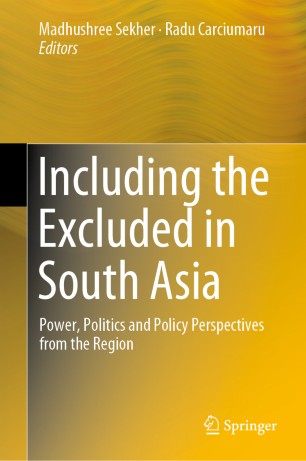 Table of contents
About this book
Introduction
This book analyses and discusses the multiple dimensions of social exclusion/inclusion seen in South Asia. It not only captures how 'social exclusion' is intrinsic to deprivation or deprivation in itself, but also the processes of political engagement and social interactions that the socially excluded develop as strategies and networks for their advancement. Consequently, the book goes beyond structures or agency, and examines the question of a more dynamic approach to provide spaces for the 'socially excluded' to self-manage exclusion, thereby raising discussions around the contested positions that underlie development discourse on social inequality.
While social exclusion linked to identities is studied, the book argues that hierarchies and inequalities based on social identities cut across and affect various groups of excluded. Consequently, these phenomena create or lead to various processes of exclusion. The book illustrates that social exclusion should not be limited to privileging the differences that characterize the exclusionary processes, but should also comprise underpinning strategies of 'inclusion', emphasizing the need to focus on imperatives 'to include'. As a result, the book acknowledges that social exclusion is not limited to analyzing the different identities that face exclusion, but also understanding the systems and processes that create social exclusion, or create opportunities for inclusion of the excluded.
The book addresses readership across academic disciplines (including in the growing field of state capacity and governance), and practitioners (administrators and policy-making communities). Conclusively, the book, provides a platform to intensively exchange the multifaceted and critical issue of social exclusion/inclusion, and thus contributes to inclusive sustainable development discourse.
Keywords
Social Exclusion/Inclusion
Inclusive Development
Inequalities
Power Sharing
Democratic Politics,
Social Policies
Governance
Bibliographic information