© 2020
Problems and Puzzles in Electric Fields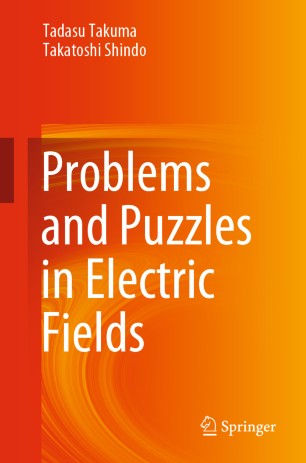 About this book
Introduction
This book aims at making readers develop a better understanding of electrostatic fields using the form of problems and puzzles (summarized as "questions" hereafter) and answers, instead of tedious explanations in ordinary textbooks. The book is filled with the questions with unexpected answers and questions often misunderstood or rarely completely understood, most of which are original. The questions in the book look simple and very easy to answer at a glance; nevertheless, once students try to solve them, they will find that the questions are really tough nuts to crack. Teachers can also use the questions in the book in their classes.
Not only from an academic or an educational point of view, the book is useful also to engineers working in such fields as electrical discharges and their applications, high voltage equipment in DC and AC circuits as well as electrostatic devices. This is because the book introduces various practical applications related to electrostatic fields.
The original ideas of the book are based on the following Japanese book written by one of author; T. Takuma: Panorama of Electric Fields (in Japanese) IEE, Japan, 2003. This English version of the book been thoroughly revised and improved with several new questions added.
Keywords
Electrostatic Fields
Electromagnetics
Quasi-Electrostatic Fields
Electrostatic Capacitance
Spherical Conductors
Drifting Charge
Composite Dielectrics
Triple-Junction Effect
Lines of Electric Force
Electric Field
Bibliographic information