© 2020
Bangladesh's Economic and Social Progress
From a Basket Case to a Development Model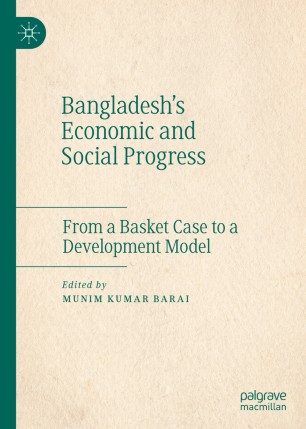 Table of contents
About this book
Introduction
This book evaluates Bangladesh's impressive economic and social progress, more often referred to as a 'development surprise'. In doing so, the book examines the gap in existing explanations of Bangladesh's development and then offers an empirically informed analysis of a range of distinctive factors, policies, and actions that have individually and collectively contributed to the progress of Bangladesh. In an inclusive way, the book covers the developmental role, relation, and impact of poverty reduction, access to finance, progress in education and social empowerment, reduction in the climatic vulnerability, and evolving sectoral growth activities in the agriculture, garments, and light industries. It also takes into account of the important role of the government and NGOs in the development process, identifies bottlenecks and challenges to Bangladesh's future development path and suggests measures to overcome them.
By providing an inclusive narrative to theorize Bangladesh's development, which is still missing in the public discourse, this book posits that Bangladesh per se can offer a development model to other developing countries.
Munim Kumar Barai is a Professor at the Graduate School of Management, Ritsumeikan Asia Pacific University (APU), Japan. He was a Fulbright Scholar and completed post-doc research at the University of Pennsylvania, USA. Dr. Barai is widely published. He has guest-edited to two Scopus indexed journals and is a co-editor of the book Towards A Common Future: Understanding Growth, Sustainability in the Asia Pacific Region (2017).

Keywords
Economics of Bangladesh
Poverty Reduction in Bangladesh
Women Empowerment in Bangladesh
Social Development of Bangladesh
Financial Access in Bangladesh
Inclusive Finance in Bangladesh
Garments Industry in Bangladesh
Women Employment in Bangladesh
Agricultural Development in Bangladesh
Developing Countries in Asia
Developmental Challenges in Bangladesh
Developmental Challenges in Asia
Development Model of Bangladesh
Bibliographic information