© 2020
Nanomaterials in Biofuels Research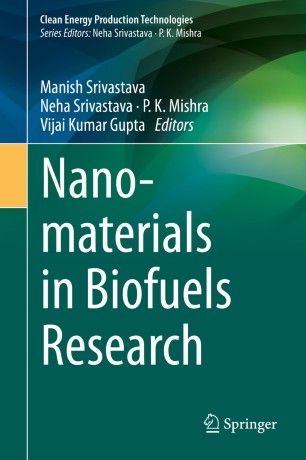 Table of contents
About this book
Introduction
As renewable energy sources, biofuels have tremendous potential to replace fossil fuels in future energy scenarios, offering green alternative energy sources. However, though such fuels could mean a significant reduction in environmental pollution, they are still far from practical implementation due to their high production costs and technical issues.
Consequently, efforts are being made around the globe to achieve the cost-effective production of biofuels. In this context, the use of nanomaterials to improve biofuels production efficiency is a vital, emerging area. Nanomaterials are attracting attention due to their versatile physicochemical properties and may improve the production process for various biofuels by acting as catalysts. However, this area is still in its infancy. To improve the practical viability of the biofuels production process, it is essential to focus on the specific type of nanomaterial used, its synthesis, and its specific effects on the process parameters.
This book explores the potential advantages and feasibility of various aspects of nanomaterials with regard to improving the current biofuels production process, making it a valuable resource for a broad readership.
Keywords
Microbial fermentation
Biofuels
Fermentable sugar
Nanomaterials
Nanocatalyst
Bibliographic information