Sustainable Agriculture, Forest and Environmental Management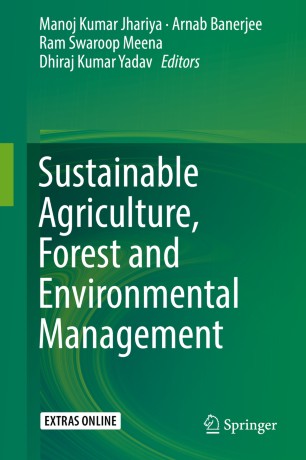 Table of contents
About this book
Introduction
The recent technologies for sustainable development and maintaining ecological integrity in the field of agriculture, forestry and environmental management for the green future.
Describes the recent technologies and issues to generate awareness among the global scientific community towards sustainable development.
Covers various eco-friendly approaches for successful management of soil, water, forest, agriculture, and other natural resources.
Addresses the policy issues promoting conservation, protection and management of various natural resources.
Presents the issues of climate change and sustainable strategies to combat such a mega event.
The existence of life on the earth primarily depends upon the agriculture, forest and environment. The changing climate is imposing the multifaceted challenges in front of human civilization. The agroecosystem management practices and technologies leads to higher productivity with destruction of agricultural, forest and environmental habitat leading to soil-water-air pollution. Food and Agriculture Organization (FAO) plays a key role in the promoting research and developmental activities in various sectors to achieve the sustainable development goals under 2030 agenda.
Gradual growth of science and technology has imposed a significant pressure on the different ecosystem. In this context, approaches such as sustainable agriculture, forestry and eco-friendly technologies need to be address across the world. Keeping view of these facts this book underlines scientific chapters dealing with the issues with proper explanation, and accompanied by illustrative diagrams, tables, database as required. The editors have tried to provide a brief scenario about the current issues related to the agriculture, forestry and environment. Therefore, the book would be a very useful resource for academicians, scientists, and policy makers of the related field.
Keywords
Agro ecosystem
Forestry
Environmental Management
Ecological Restoration
Eco-friendly technologies
Bibliographic information