Postcolonial Citizenship in Provincial Indonesia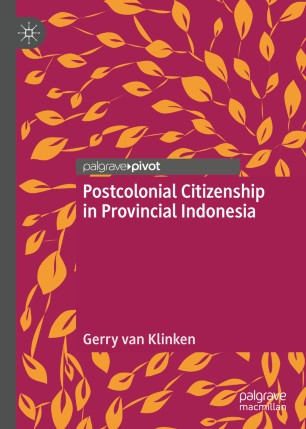 About this book
Introduction
This book makes an important contribution to citizenship studies, not only in Indonesia but to the field in general. Contrary to the dominant patronage-clientelism paradigm of the Global South, the author demonstrates that notions of equality, justice, participation, inclusion and mobilization have been powerful forces that run through Indonesian history and have given agency to its people to resist repression and inequality.
—Roel Meijer, Associate Professor of Islamic Studies, Radboud University, Netherlands
This book examines the history of state formation in postcolonial Indonesia by starting with the death of Jan Djong, an activist and a former village head in the little town of Maumere. It historicizes contemporary debates on citizenship in the postcolonial world.
Citizenship has been called the "organizing principle of state-society relations in modern states". Democratization is today most intense in the non-Western, post-colonial world. Yet "real" citizenship seems largely absent there. Only a few rights-claiming, autonomous, and individualistic citizens celebrated in mainstream literature exist in post-colonial countries.
In reflecting on one concrete story to examine the core dilemmas facing the study of citizenship in postcolonial settings, this book challenges ethnocentricity found within current scholarly work on citizenship in Europe and North America and addresses issues of institutional fragility, political violence, as well as legitimacy and aspirations to freedom in non-western cultures.
Gerry van Klinken is honorary professor of Southeast Asian history at the University of Amsterdam, and at the University of Queensland. He helped coordinate the international research collaboration, From Clients to Citizens? Emerging Citizenship in Democratizing Indonesia.
Keywords
Citizenship in postcolonial Indonesia
State formation in postcolonial
Maumere and Anti-Communist Movement
Factionalism and patronage in Indonesia
Republican activism in Maumere, Indonesia
Colonialism in Indonesia
Decolonisation in Indonesia
Jan Djong
Postcolonial Citizenship in Indonesia
Postcolonial Citizenship in Asia
Communists in Sikka
Military Politics in Indonesia
Communists in postcolonial Indonesia
Decentralised despotism in Indonesia
Bibliographic information