© 2019
Smart Cities in the Gulf
Current State, Opportunities, and Challenges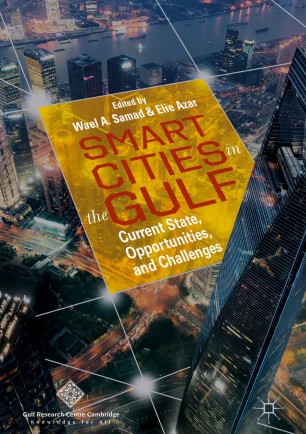 Table of contents
About this book
Introduction
In this edited volume, academics and practitioners from various disciplines investigate the challenges, opportunities and frameworks in the implementation of Smart Cities in the Gulf.
The volume presents insightful analyses and identifies key lessons learned through case studies covering four main themes including smart city frameworks and governance, resources and infrastructure, information and communication technologies, and the social perspective. In doing so, the book provides policy recommendations related to smart governance, as well as overall frameworks that cities can adopt in their process of transition, and knowledge that is integral to bridge the gap between various stakeholders in the Smart City milieu.
This edited volume comprises extended versions of papers presented at a workshop held at the University of Cambridge, UK titled "Smart Cities in the GCC: Current State, Opportunities and Challenges."
Wael A. Samad is a Mechanical Engineering faculty at the Rochester Institute of Technology, Dubai Campus. He earned his bachelor's and doctoral degrees from the American University of Beirut, Lebanon and the University of Wisconsin-Madison respectively. Dr. Samad is an active researcher in the broad area of solid mechanics, with his work published in journals such as Experimental Mechanics, Aerospace Science and Technology, and 3D Printing and Additive Manufacturing. His most recent research effort was in collaboration with Emirates Global Aluminum on improving the lifespan of ingot molds for a more sustainable aluminum production in the United Arab Emirates.
Elie Azar is a faculty of Industrial and Systems Engineering at Khalifa University of Science and Technology in Abu Dhabi, UAE. He holds a PhD in Civil and Environmental Engineering from the University of Wisconsin-Madison. His research focus is on making the built environment more sustainable with a focus on human actions and energy use behaviors. His work is frequently published in books and leading peer-reviewed journals and conferences, earning him multiple academic awards and distinctions.
Keywords
Smart Cities in GCC
Impact Driven Smart Sustainable City Framework
Urban Challenges in Smart Dubai
National Smart City Initiatives Framework in Bahrain
Blueprint for Successful Smart Cities
Smart Governments for Smart Cities
Dubai Smart Government
Smart Cities Concept to Energy-Water-Food Nexus
Transportation Infrastructure for Smart Cities in GCC
Intelligent Energy Management
Big Data and IoT in Smart Cities
Big Data and IoT in Riyadh
Dubai Happiness Agenda
Smart Cities through the Arabian Gulf
Sino-GCC Strategic Knowledge Relations for Building Smart Cities
Bibliographic information