At Home with Democracy
A Theory of Indian Politics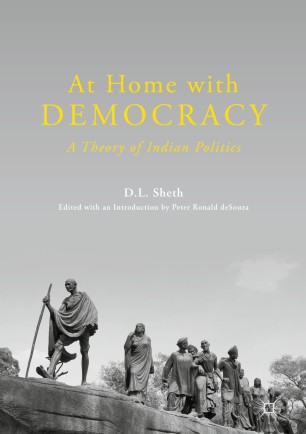 Table of contents
About this book
Introduction
This book presents numerous discussions of specific aspects of democratic politics, showing how 'democracy' can be projected as a model of deliberate imperfection – a model that tolerates various loose ends in the system – and how democracy recognizes a multiplicity of possible courses open to the system at any point in time. Against this backdrop, the book carefully analyzes the lifetime work of D.L. Sheth, which, seen as a whole, offers us with a theory of Indian politics.
The selection of fifteen essays has been clustered into five sections that signify the major domains of democratic politics: State, Nation, Democracy; Parapolitics of Democracy; Social Power and Democracy; Representation in Liberal Democracy; and Emerging Challenges of Democracy. These essays give a sense of the transformations and struggles that are underway in India, brought about by the dynamics of democratic politics. Each of the fifteen chapters focuses on one aspect, providing a unique analysi
s of the deepening of democracy in India.
**********
Peter Ronald deSouza has done signal service to the South Asian intellectual community by making more accessible some of the major writings of one of India's most elusive, self-effacing and, at the same time, brilliantly original political sociologists. Without this collection of essays of D.L. Sheth, the story of India's noisy, chaotic transition from a colonial social knowledge system to a more self-confident, more autonomous body of scholars would have remained incomplete. Admirers of Sheth have ranged over three generations — from M.N. Srinivas who considered Sheth's work on politics of caste to be the best to come out of the stable of political scientists, to Rajni Kothari, who believed that Sheth was the crucial intellectual marker of the uniqueness of the Centre for the Study of Developing Societies, to D.R. Nagaraj, convinced that acceptance by Sheth was the final measure of the worth of a public intellectual. But till now, I have not come across any deep engagement with his work, not even in Latin America and East Europe, where his work for a while was taken more seriously. I hope this collection of essays will trigger a new interest in this remarkable intellectual whose access to and feel for the Other India has become legendary for many. Negotiating Sheth is also a way of renegotiating India.
Professor Ashis Nandy is an Indian political psychologist, social theorist, and critic
Professor D.L. Sheth is the greatest living political sociologist in the country. He has an uncanny sense of detecting sociological and political trends on the ground that others might take years to unravel. His work on caste and democracy is original, theoretically stimulating and widely recognized internationally. But there are many more insights stored in him that are waiting to burst forth. They would be exciting, illuminating and are bound to challenge canonical wisdom. Peter
Ronald deSouza is performing a great service to the academic community by helping them emerge.
Professor Rajeev Bhargava is a noted Indian political theorist
Keywords
Democracy
State
Non Party Political Formations
Transformative Grassroots Politics
Caste
Reservation
Secularization
Law
Language Politics
Communalism
Bibliographic information