Begomoviruses: Occurrence and Management in Asia and Africa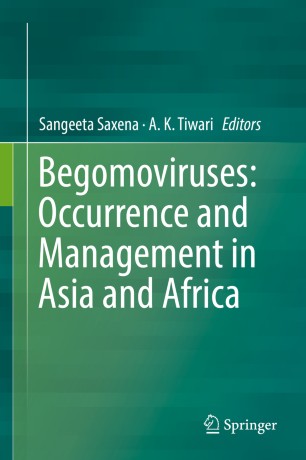 Table of contents
About this book
Introduction
Begomoviruses are one of the most interesting plant viruses to study for basic and applied research as they cause huge economic losses to agriculture industries and farmers all over the world. They belong to family Geminiviridae and are emergent plant viral pathogens which cause diseases in various crops in the tropical and subtropical regions. They are transmitted by the whitefly (
B. tabac
i) and have either one (monopartite DNA-A) or two (bipartite DNA-A and DNA-B) genomic components. DNA-A and DNA-B are of ~2600 - 2800 nucleotides each. A number of serious diseases of cultivated crops of the Fabaceae, Malvaceae, Solanaceae and Cucurbitaceae families are caused by Begomoviruses which are considered as threat to their cultivation in many countries.
Accurate diagnosis is important for successful diseases management, since plants infected by Begomovirus do not recover, s
uffer serious yield losses and act as further sources of inoculum, which is then picked up and spread by their vector whitefly (B. tabaci). Reports of occurrence of new viruses and re-emergence of several known viruses in new niches have become regular event. In such a dynamic system, growth of several crop species relies on an accurate diagnosis, management and better understanding of the biology of the casual virus. This is crucial to evolve appropriate control practices and to prevent the virus infection. Researchers have achieved considerable progress in characterization, detection and management of virus on different crop species in the last decade.
This book covers latest information in diagnosis of begomoviruses in the present scenario and explores the new vistas in the field of genomics and proteomics. Chapters in Section 1 illustrates the occurrence, genome organisation, transmission and diagnostics of begomoviruses. It also de
tails the diseases caused by begomoviruses on different crops, detection techniques and management strategies in support of research findings by presentation of data, graphics, figures and tables. Section 2 is a chapterwise collection of occurrence, diversity and status of begomoviruses in Asian Africa counties where the diseases are most prevalent. This book will provide wide opportunity to the readers to have complete information and status of begomovirus in Asia and Africa. This will be useful resource for researchers and extension workers involved in the begomvirus disease diagnosis and molecular biology.
Expert detection, accurate diagnosis and timely management play a significant role in keeping plants free from pathogens. In this book expert researchers share their research knowledge and literature which are vital towards the diagnosis of begomoviruses, addressing traditional plant pathology techniques as well as advanced molecul
ar diagnostic approach. The book deals with the economically important crops including fruits, vegetables along with challenges in crop protection against diseases caused by begomovirus. This will be resourceful and handy for researcher, practitioners and also students.
Keywords
Begomoviruses
Diagnostics
Viral diseases
Detection
Leaf curl
Geminiviruses
Genome organization
Management
Diversity
Transmission
RNAi
Bibliographic information
DOI

https://doi.org/10.1007/978-981-10-5984-1

Copyright Information

Springer Nature Singapore Pte Ltd. 2017

Publisher Name

Springer, Singapore

eBook Packages

Biomedical and Life Sciences

Print ISBN

978-981-10-5983-4

Online ISBN

978-981-10-5984-1