Cellular Osmolytes
From Chaperoning Protein Folding to Clinical Perspectives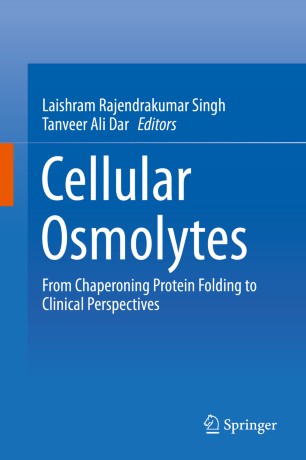 Table of contents
About this book
Introduction
This book provides essential insights into improving protein folding/stability, which is a result of the balance between the intra-molecular interactions of protein functional groups and their interactions with the solvent environment.
Even a subtle change in the composition of the solvent environment will alter the fidelity of the protein folding process, and hostile environmental stresses represent one of the basic causes of challenges in protein folding or misfolding.
Among the strategies employed in a wide range of species and cell types to circumvent the hostile environmental conditions is the elaboration of small organic molecules called osmolytes, and recent advances have revealed that certain specific osmolytes might be key biomarkers of cancer, infectious diseases and are useful in heterologous protein expression and vaccine flocculation. As such a large pool of data has been collected regarding their potential for therapeutic intervention in neurodegenerative diseases and other metabolic disorders caused by protein aggregation or proteiostasis failure.
Keywords
Osmolytes
Chemical chaperones
Protein folding
Protein stability
Protein misfolding
Stress
Bibliographic information