© 2016
Investing on Low-Carbon Energy Systems
Implications for Regional Economic Cooperation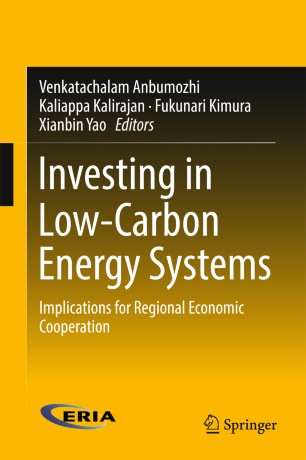 Table of contents
About this book
Introduction
This book investigates low-carbon energy system development that integrate economic growth, environmental sustainability and social development. It explores recent developments in the energy markets in emerging economies that highlight the need for strengthening regional cooperation across Asia to sustain energy security and reduce carbon emissions, in particular.
The book discusses how to pursue effective regional cooperation, focusing on both market-based and extra-market mechanisms to complement and augment country level actions. It pays particular attention to the evolving patterns of Asia's economic cooperation and integration in recent decades, and highlights important lessons and insights that need to be incorporated in the organizing framework.
The book uses scenario settings, meta -policy analysis and varying coefficients stochastic frontier gravity model in assessing progress in various aspects of regional cooperation. It provides a policy analysis program to guide the continued monitoring and assessment of regional cooperation initiatives in achieving low-carbon green growth in the region.
Keywords
Low-carbon Energy Systems
Green Growth
Sustainability
Carbon Market
Energy Security
Energy Policy
Bibliographic information