Spotlight on China
Chinese Education in the Globalized World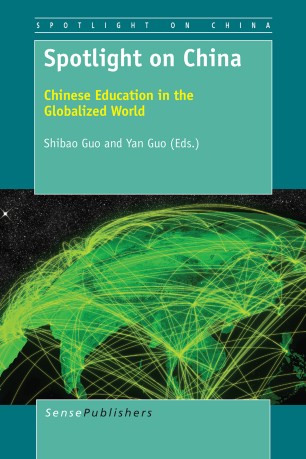 Table of contents
About this book
Introduction
Economic globalization and advanced communication and transportation technologies have greatly increased interconnectivity and integration of China with the rest of the world. This book explores the impact of globalization on China and the interactions of Chinese education with the globalized world. It consists of twenty chapters which collectively examine how globalization unfolds on the ground in Chinese education through global flows of talents, information, and knowledge. The authors, established and emerging scholars from China and internationally, analyze patterns and trends of China's engagement with the globalized world as well as tensions between the global and local concerning national education sovereignty and the widening gap between brain gain and brain drain. The book covers a wide range of topics, including:
Internationalization of Chinese education
Student mobility and intercultural adaptation
Cross-cultural teaching and learning
Transnational talent mobility
The diverse concepts and perspectives represented in this volume provide rich accounts of the effects of globalization on Chinese education and how globalization has transformed Chinese education and society. China's successes and challenges will inform international researchers and educators about globalization and education in their own contexts with possible implications for change.
"This timely volume opens up fascinating insights into the extensive and growing interconnections between Chinese education and the global community. Concepts such as identity, interculturality, transnationalism and double diaspora are given vivid expression in the experience of Chinese students and scholars in diverse global settings as well as that of international students and teachers in Chinese higher institutions. While there are candid critiques of barriers and prejudices that need to be overcome, there is also a sense of hope and dynamism in the rich outflowing of educational ideas rooted in China's unique civilization. Editors Shibao Guo and Yan Guo are to be congratulated for bringing together such a remarkable collection of essays dealing with internationalization, student mobility, cross-cultural teaching and learning and transnational talent mobility." – Ruth Hayhoe, Ontario Institute for Studies in Education, University of Toronto
Keywords
Globalization
Internationalization of Chinese higher education
Student mobility and intercultural adaptations
Transnational talent mobility
Chinese education
Bibliographic information
DOI

https://doi.org/10.1007/978-94-6300-669-9

Copyright Information

SensePublishers-Rotterdam, The Netherlands 2016

Publisher Name

SensePublishers, Rotterdam

eBook Packages

Education

Online ISBN

978-94-6300-669-9