Seven Minutes from Home
An American Daughter's Story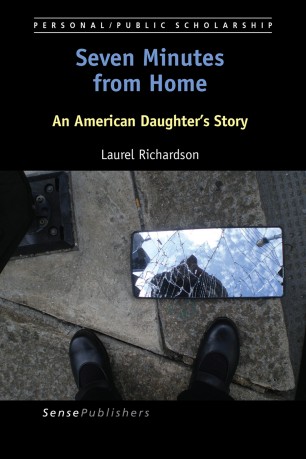 Table of contents
About this book
Introduction
"Book: An American Daughter's Story is a collection of linked stories written chronologically from 1980–2015. They create a multifaceted narrative of how the public and the private, the past and present, the local and global, intersect. With earnest reflection, modesty and humor, Laurel Richardson introduces the reader to her Ohio neighborhoods, friends, family, writers and therapy dogs. She ages, retires and frets over her droopy eyebrow. Her town's local stores close; police bust heroin dealers; September 11th happens; universities corporatize; poetry venues transform. All this and much more as Richardson honors the complexity and vibrancy of America, and her life within it. Richardson's renowned book, Fields of Play (1997) is about constructing a life inside the academy; Seven Minutes from Home is about constructing a life outside the academy. This extraordinary example of literary sociology can be read for pleasure, adopted in book clubs, or used in courses in American Studies, communication, creative writing, narrative, qualitative research, sociology, cultural studies and women's studies. An appendix offers discussion questions, research projects and creative writing exercises.
"A tour de force, the penultimate statement from gifted writer Laurel Richardson. Here an American daughter's story comes home." – Norman Denzin, University of Illinois at Urbana-Champaign
"The stories are riveting; you will not be able to stop reading." – Carolyn Ellis, University of South Florida
"An exemplar for how good social science should be written." – Jessica Smartt Gullion, Texas Woman's University
"A love letter to a culture and a life well-lived." – Anne Harris, Monash University
"Highly recommended for courses in sociology, women's studies and creative writing." – Mary Margaret Fonow, Arizona State University

Laurel Richardson, Professor Emeritus at The Ohio State University, has received a Life-Time Achievement Award in Qualitative Research, a Cooley Book Award, and two Affirmative-Action awards. She writes daily. She is most proud of her therapy dogs' work with special-needs children.
"
Keywords
Autoethnography
Narrative nonfiction
Gender
Home
Sociology
Hybrid literary genre
Americana
Ohio
Family
Multicultural identity
Aging
Retirement
Life Course
Dogs
Bibliographic information
DOI

https://doi.org/10.1007/978-94-6300-543-2

Copyright Information

SensePublishers-Rotterdam, The Netherlands 2016

Publisher Name

SensePublishers, Rotterdam

eBook Packages

Education

Online ISBN

978-94-6300-543-2