Production of Biomass and Bioactive Compounds Using Bioreactor Technology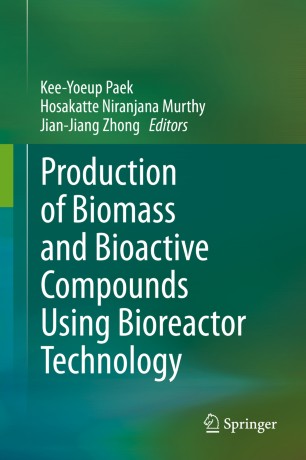 Table of contents
Bioreactor Design, Advantages and Limitations of Bioreactor Cultures

Production of Biomass and Bioactive Compounds from Cell Suspension Cultures

Production of Biomass and Bioactive Compounds from Organ Cultures: Shoot, Embryo and Adventitious Root Cultures

Strategies for Production of Bioactive Compounds, Large-Scale Cultures and Metabolic Engineering of Selected Metabolites

Bio-safety Assessments of Plant Cell and Organ Culture Products

Physiological Disorders in Plants Cultured in Bioreactors
About this book
Introduction
The bioactive compounds of plants have world-wide applications in pharmaceutical, nutraceutical and food industry with a huge market. In this book, a group of active researchers have addressed on the most recent advances in plant cell and organ cultures for the production of biomass and bioactive compounds using bioreactors.
Tremendous efforts have been made to commercialize the production of plant metabolites by employing plant cell and organ cultures in bioreactors. This book emphasizes on the fundamental topics like designing of bioreactors for plant cell and organ cultures, various types of bioreactors including stirred tank, airlift, photo-bioreactor, disposable bioreactor used for plant cell and organ cultures and the advantages and disadvantages of bioreactor cultures. Various strategies for biomass production and metabolite accumulation have been discussed in different plant systems including Korean/Chinese ginseng, Siberian ginseng, Indian ginseng, Echinacea, St. John's wort, Noni, Chinese licorice, Caterpillar fungus and microalgae. Researches on the industrial application of plant cells and organs with future prospects as well as the biosafety of biomass produced in bioreactors are also described.
The topics covered in this book, such as plant cell and organ cultures, hairy roots, bioreactors, bioprocess techniques, will be a valuable reference for plant biotechnologists, plant biologists, pharmacologists, pharmacists, food technologists, nutritionists, research investigators of healthcare industry, academia, faculty and students of biology and biomedical sciences. The multiple examples of large-scale applications of cell and organ cultures will be useful and significant to industrial transformation and real commercialization.
Keywords
bioactive compounds
biomass
bioreactor
cell and organ culture
Bibliographic information
DOI

https://doi.org/10.1007/978-94-017-9223-3

Copyright Information

Springer Science+Business Media Dordrecht 2014

Publisher Name

Springer, Dordrecht

eBook Packages

Biomedical and Life Sciences

Print ISBN

978-94-017-9222-6

Online ISBN

978-94-017-9223-3