Diagnosis of human peroxisomal disorders
A handbook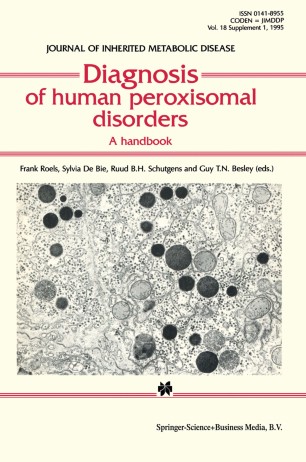 About this book
Introduction
Peroxisomal disorders constitute a major research front in clinical genetics, paediatrics and cell biology. Since 1983, the metabolic defect in some 20 different peroxisomal disorders has been described. The best known conditions include Zellweger syndrome, rhizomelic chondrodysplasia punctata and X-linked adrenoleukodystrophy and, in the most recent edition of The Metabolic and Molecular Basis Inherited Disease, edited by Scriver and colleagues, more than 100 pages are now devoted to the subject.
Progress in our understanding of these conditions, and their diagnosis, results from the application of a variety of laboratory investigations. These include microscopic studies, analysis of metabolites (very long-chain fatty acids, bile acids, and plasmalogens), enzyme studies (peroxisomal beta-oxidation pathway and dihydroxyacetone phosphate acyltransferase), immunodetection of peroxisomal (membrane) proteins and molecular analysis of mutant DNA.
In order to encourage a greater awareness in this field and the diagnostic protocols required, an international course was organised in Gent, Belgium, in May 1994, on the clinical and biochemical diagnosis of peroxisomal disorders. A number of international experts in the field who provided intensive hands-on experience over 3.5 days, have now collected their course work and reviews together in this Handbook. The volume is introduced by Sidney Goldfischer, who in 1973 was the first to recognise the absence of peroxisomes in Zellweger syndrome, but whose observations were not fully appreciated for a further decade. This handbook provides the most comprehensive and detailed account of laboratory methods for the diagnosis of peroxisomal disorders. The methods are clearly presented and well illustrated, and should allow laboratories to introduce these methods into their repertoire.
Audience: Paediatricians, neurologists, clinical biochemists, pathologists, genetic counsellors, obstetricians, and GPs interested in the recognition, diagnosis and prenatal prevention of peroxisomal disorders.
Keywords
biology
blood
brain
cell
cell biology
cells
diagnosis
fat
genetics
pathology
plasma
prevention
protein
proteins
skin
Bibliographic information
DOI

https://doi.org/10.1007/978-94-011-9635-2

Copyright Information

Springer Science+Business Media B.V. 1995

Publisher Name

Springer, Dordrecht

eBook Packages

Springer Book Archive

Print ISBN

978-0-7923-3855-0

Online ISBN

978-94-011-9635-2