Regulated Proteolysis in Microorganisms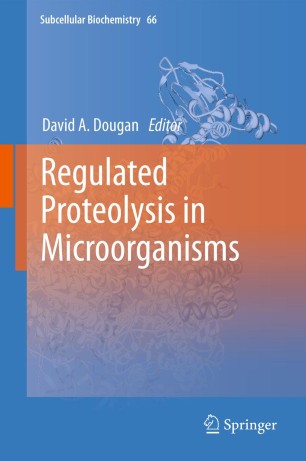 Table of contents
About this book
Introduction
This book contains an extensive collection of critical reviews, from leading researchers in the field of regulated protein degradation. It covers the role of regulated proteolysis in a range of microorganisms (from Gram positive, Gram negative and pathogenic bacteria to Archaea and the Baker's yeast Saccharomyces cerevisiae).
For many years, intracellular protein degradation was almost exclusively thought of as a non-selective mechanism to recycle amino acids and remove trash from the cell. The contemporary view however, is that protein degradation is a highly selective process that plays a key role in a number of important cellular processes. Not only does it contribute to the maintenance of protein homeostasis (proteostasis) through the direct recognition and removal of damaged proteins, but it also regulates the cells response to a variety of environmental stress signals. Regulatory proteolysis also plays an important role in virulence of pathogenic bacteria, and "fitness" of eukaryotic organelles. This book focuses on the central players in these diverse cellular processes – the AAA+ proteases – and examines how these machines achieve their exquisite specificity. It also highlights the various mechanisms microorganisms use to post-translationally modify their proteins, as a means to regulate protein levels and hence cell physiology.
Regulated proteolysis in microorganisms is a must read for researchers working on protein homeostasis, stress response pathways and virulence. It provides a detailed overview of the components and signals that contribute to the metabolic stability of a protein in various microorganisms. As such, it also forms a useful resource for researchers in biotechnology. The book is essential reading for senior undergraduate and postgraduate students, studying all areas of protein science including protein chemistry, biochemistry, molecular biology, microbiology and biotechnology.
Key features and content:
· Molecular mechanism of action of AAA+ proteases
· Control of substrate specificity by adaptor proteins
· Post-translational tagging of proteins as a means to control their metabolic stability (SsrA, Ubiquitlyation, PUPylation and SAMPylation)
· Regulation of stress response pathways by proteolysis
· Regulated degradation and virulence
· Protein degradation within mitochondria
Keywords
AAA+ superfamily
adaptor proteins
protein degradation
stress response pathways
Bibliographic information
DOI

https://doi.org/10.1007/978-94-007-5940-4

Copyright Information

Springer Science+Business Media Dordrecht 2013

Publisher Name

Springer, Dordrecht

eBook Packages

Biomedical and Life Sciences

Print ISBN

978-94-007-5939-8

Online ISBN

978-94-007-5940-4

Series Print ISSN

0306-0225