A Structural Perspective on Respiratory Complex I
Structure and Function of NADH:ubiquinone oxidoreductase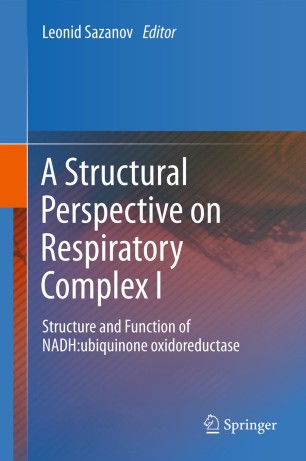 Table of contents
About this book
Introduction
Complex I (NADH:ubiquinone oxidoreductase) is the first and largest enzyme of the respiratory chain in mitochondria and plays a central role in cellular energy production. Complex I dysfunction has been implicated in many human neurodegenerative diseases, including Parkinson's.
Mutations in complex I subunits are among the most common human genetic disorders known. Until recently, in the absence of structural information, complex I was the least understood enzyme of the respiratory chain. The mechanism by which it couples electron transfer between NADH and quinone to the translocation of protons across the membrane was a complete enigma.
Recent years have been marked by spectacular progress in the elucidation of complex I's structure, finally allowing the interpretation of a wealth of data accumulated in about 50 years since the discovery of the enzyme. Understanding of the mechanism of this large molecular machine, involving long-range conformational changes, is beginning to emerge.
This book is the first devoted entirely to complex I. It contains chapters written by leaders in the field, covering a wide range of topics from the structure of the complex, properties of its many redox centers, subunit composition, mutagenesis studies, evolution of the enzyme and on to the current understanding of the coupling mechanism and the molecular basis for human pathologies.
Features:
- Concise and authoritative review of current state-of-the-art in research on respiratory complex I
- The first book entirely devoted to complex I, a central enzyme in bioenergetics
- Recent breakthroughs in structure elucidation finally allow understanding of the mechanism
- Mutations leading to common and severe human disorders are discussed.
Keywords
NADH:ubiquinone oxidoreductase (complex I)
bioenergetics
electron transfer and proton translocation
membrane protein structure
respiratory chain
Bibliographic information