© 2012
European Energy Markets Observatory
2009 and Winter 2009/2010 Data Set Twelfth Edition, November 2010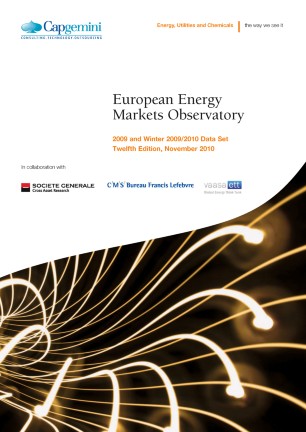 About this book
Introduction
Capgemini's European Energy Markets Observatory (EEMO) is an annual report that tracks the progress in establishing an open and competitive electricity and gas market in EU-27 (+ Norway and Switzerland) as well as the progress on the EU Climate-Energy package objectives. Launched in 2002 with the primary objective to assess the progress of deregulation in the European Member States, the report now tackles all the major issues faced by the Utilities industry.
Through 70+ indicators, the report scans all the segments of the value chain and analyses the hot topics of the moment, to identify the key trends of the electricity and gas industries. The report includes country focus highlighting the local key issues and topic focus on leading edge themes.
Capgemini's partners – Société Générale Global Research and Strategy for their expertise in financial analysis, VaasaETT for their in-depth knowledge of customers' behaviours and CMS Bureau Francis Lefebvre for their understanding of European energy policies and instances – enrich the report on their respective area of expertise.
The twelfth edition of the European Energy Markets Observatory covers the full year 2009 and the winter 2009/2010.
Key messages developed in the report include the following:
-New energy trends are emerging after the crisis.
-The crisis and some new investments resulted in an improved security of supply.
-There has been little progress towards the creation of a single European energy market.
-EU greenhouse gas emissions reduction objective will be met, but renewables and energy efficiency targets are a challenge.
-Generation mix and customers' behavioral changes are calling for smart grids.
-Utilities are focusing on reducing their debts.
Keywords
Electricity and Gas
Energy Economics
Energy Markets
Energy Policy
Sustainable Energy
Bibliographic information