The Science of Sensibility: Reading Burke's Philosophical Enquiry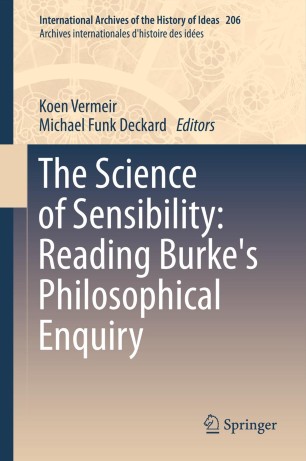 Table of contents
About this book
Introduction
Attracting philosophers, politicians, artists as well as the educated reader, Edmund Burke's Philosophical Enquiry into the Origin of Our Ideas of the Sublime and Beautiful, first published in 1757, was a milestone in western thinking. Situated on the threshold between early modern philosophy and the Enlightenment, Burke's oeuvre combines reflections on aesthetics, politics and the sciences. In the eighteenth century, these domains were connected by the key notion of sensibility, which structured debates not only in physiology, epistemology and psychology, but also in the arts and in politics. This notion referred to an organic sensitivity depending on the nervous structure of the human body. At the same time, however, sensibility denoted subtle moral and aesthetic perceptions, an acuteness of emotional and physical feeling and the susceptibility to delicate or powerful passionate arousal. The Science of Sensibility interprets Burke's Philosophical Enquiry as an important contribution to this culture of sensibility and places this seminal work in its broader historical and philosophical context.
Authors in this collection come from various disciplines and give a manifold of perspectives on Burke's
Philosophical Enquiry
, including approaches from art history, classics, English literature, cultural history, history of science, philosophy, political science, Irish studies, cultural studies and feminist studies. Confronting established fields with new disciplines and sub-disciplines, this edited volume reassesses Burke's prominence in the history of ideas.
The Science of Sensibility
is the first book length work devoted primarily to Burke's
Philosophical Enquiry
in both its historical context and for its contemporary relevance
Keywords
Aesthetics
Edmund Burke
History of Ideas
History of Science
Bibliographic information