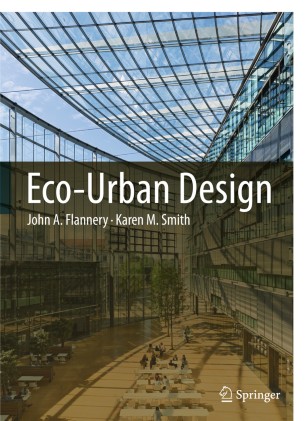 Table of contents
About this book
Introduction
"Eco-Urban Design" focuses on the unprecedented challenges currently faced by architects and designers. In a world where climate change, diminishing natural resources and an increasing global population have become indisputable facts of life there is now a rising demand for evolved buildings that no longer endanger the Earth's fragile ecological systems.
This book endeavours to tell the positive side of the story by featuring considered design solutions provided by the world's most innovative architects and engineers. By only including realised projects which have been subjected to post construction monitoring this publication provides evidence-based information that measured reductions in carbon emissions, water and energy usage can actually be achieved in the field and not just on the drawing board.
These completed projects demonstrate best practice and will inspire a new hybrid generation of designers who will combine architecture and engineering skills to resolve a key environmental challenge. Furthermore, these creative construction projects from a variety of genres including, commercial property, public buildings, social housing and private homes give testimony to the fact that investment in green archineering also provides a commercial advantage to forward thinking developers and investors.
John A. Flannery is a freelance Project Manager with qualifications in industrial design from Leeds Metropolitan University. John Flannery has over 35 years experience in the Design, Procurement and Project Management of a wide range of contstruction projects in the industrial, commercial and private sectors throughout Europe, Africa, and the USA. He currently specialises in urban regeneration projects with the highest levels of ecological accreditation.
Karen M. Smith has a dual role as an Information Specialist and Academic Liaison Librarian at the University of York. Her extensive and varied career has encompassed both Public, University and Health Care Libraries. Currently she provides consultancy and lecturing on evidence-based practice and the effective use of information resources.
Keywords
Design
Ecology
Green
Sustainable
Urban
Bibliographic information
Reviews
From the reviews:
"Eco-Urban Design is a book that can be used to exemplify proven ecological and sustainable designs for a variety of building types in multiple climates. … a reference book for students, designers, or persons wanting inspiration for ecologically sound and sustainable design ideas for their own personal building projects. The authors have been taken great care to provide building examples that demonstrate a 'valued contribution to the evolution of good design, and positive proof that it need not cost the earth' … ." (Denise Gravitt, Construction Management and Economics, Vol. 30 (07-09), July-September, 2012)