Children, Development and Education
Cultural, Historical, Anthropological Perspectives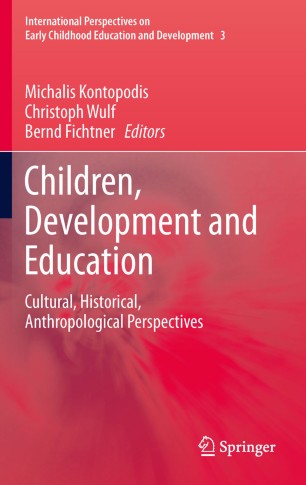 Table of contents
About this book
Introduction
Historical anthropology is a revision of the German philosophical anthropology under the influences of the French historical school of Annales and the Anglo-Saxon cultural anthropology. Cultural-historical psychology is a school of thought which emerged in the context of the Soviet revolution and deeply affected the disciplines of psychology and education in the 20th century. This book draws on these two schools to advance current scholarship in child and youth development and education. It also enters in dialogue with other relational approaches and suggests alternatives to mainstream western developmental theories and educational practices.
This book emphasizes communication and semiotic processes as well as the use of artifacts, pictures and technologies in education and childhood development, placing a special focus on active subjectivity, historicity and performativity. Within this theoretical framework, contributors from Europe and the U.S. highlight the dynamic and creative aspects of school, family and community practices and the dramatic aspects of child development in our changing educational institutions. They also use a series of original empirical studies to introduce different research methodologies and complement theoretical analyses in an attempt to find innovative ways to translate cultural-historical and historical anthropological theory and research into a thorough understanding of emerging phenomena in school and after-school education of ethnic minorities, gender-sensitive education, and educational and family policy. Divided into two main parts, "Culture, History and Child Development", and "Gender, Performativity and Educational Practice", this book is useful for anyone in the fields of cultural-historical research, educational science, educational and developmental psychology, psychological anthropology, and childhood and youth studies.
This book presents interesting original research with a strong cultural dimension. It provides material for important theoretical innovations regarding the notions of practice, performativity, or subjectivity. It shows the relevance of historical approaches to the understanding of human cultural development and cultural practices, that may help students and researchers of education and psychology better understand their own constructed actuality.
Bert van Oers, Professor, VU University Amsterdam, The Netherlands
The strongest aspect of Children, Development and Education is its interdisciplinary character. The breadth of approaches, cutting across evolution, ontogenesis, and cultural history, is impressive and innovative, and makes an original and timely contribution to the study of human development.
Igor Arievitch, Professor, The City University of New York, USA
This excellent book brings to discussion, in an innovative way, issues of culture, childhood and development that are of great interest for the international audience since it opens new paths to look at cultural-historical research, educational science, developmental psychology and childhood research.
Maria Cecília Camargo Magalhães, Professor, Catholic University of São Paulo, SP, Brazil
Keywords
Vygotsky L.S.
active subjectivity
anthropology of childhood
appropriation
child development
childhood research
childhood studies
contextualizing
critical reflection
cultural-historical activity theory (CHAT)
developmental psychology
double culturality and historicity
early childhood development
early childhood education
educational science
embodiment
ethnography
everyday action
family rituals
infancy
language development
marginalized youth
media
mimesis
minorities
new media
performativity
power relations
qualitative methodology
socio-cultural approaches to education
sociology of childhood
zone of proximal development
Bibliographic information
DOI

https://doi.org/10.1007/978-94-007-0243-1

Copyright Information

Springer Science+Business Media B.V. 2011

Publisher Name

Springer, Dordrecht

eBook Packages

Humanities, Social Sciences and Law

Print ISBN

978-94-007-0242-4

Online ISBN

978-94-007-0243-1