© 2010
Long-Term Ecological Research
Between Theory and Application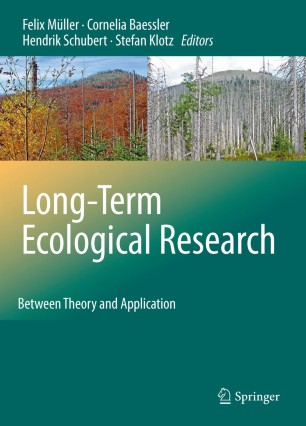 Table of contents
Introduction

The Significance of Ecological Long-Term Processes

Exploring Long-Term Processes: International Experience

Concepts and Results: Presenting and Interpreting Long-Term Ecological Processes: Aquatic Ecosystem Research

Concepts and Results: Presenting and Interpreting Long-Term Ecological Processes: Terrestrial Ecosystem Research
About this book
Introduction
Ecosystems change on a multitude of spatial and temporal scales. While analyses of ecosystem dynamics in short timespans have received much attention, the impacts of changes in the long term have, to a great extent, been neglected, provoking a lack of information and methodological know-how in this area.
This book fills this gap by focusing on studies dealing with the investigation of complex, long-term ecological processes with regard to global change, the development of early warning systems, and the acquisition of a scientific basis for strategic conservation management and the sustainable use of ecosystems.
Theoretical ecological questions of long-term processes, as well as an international dimension of long-term monitoring, observations and research are brought together. The outcome is an overview on different aspects of long-term ecological research.
Concepts and results of case studies in both aquatic and terrestrial ecosystems are discussed. The different time dimensions, as well as scales from the community and ecosystems up to the landscape scale are included. Finally, research is linked with application in different fields of ecology, and urgent future infrastructural, methodological and research demands and challenges are described.
This book will be of interest not only to ecologists, conservation biologists, biodiversity scientists and environmentalists, but also to administrators of protected areas and natural resource managers.
Keywords
Biodiversity
Fauna
ecosystem
ecosystem dynamics
ecosystems
environment
species diversity
terrestrial ecosystem
terrestrial ecosystems
Bibliographic information
Reviews
From the reviews:
"Each of the 30 chapters (written by 104 authors) deals with the conceptual issue of long-term research … . The book can serve as a source of arguments and ideas for grant proposals of those who are preparing any monitoring, as even short-term monitoring might be repeated in future and become long-term. The book is an excellent source of flow charts incorporating different scales, ecosystems subjects methods, etc … ." (Jitka Klimešová, Folia Geobot, Vol. 47, 2012)