© 2010
Water and Sustainability in Arid Regions
Bridging the Gap Between Physical and Social Sciences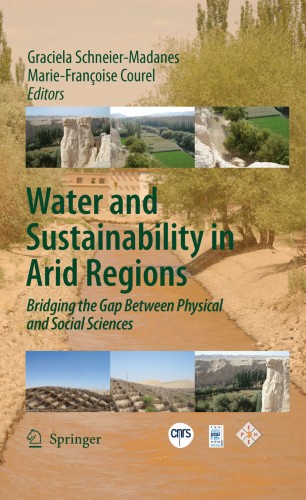 Table of contents
About this book
Introduction
International voices fill the pages of Water and Sustainability in Arid Regions, forming an original scientific exploration of current water research and management issues.
In arid regions, agriculture that is ill-adapted to the environment, accelerated urbanization, poverty, and increasing pollution challenge access to and uses of water. Understanding these issues requires incorporating findings from both the physical and social sciences at different temporal and spatial scales.
The chapters in this book were written by hydrologists, remote sensing specialists, ecologists, historians, economists, political scientists, architects, archaeologists, and other experts who live in and study arid lands. The authors present updates, overviews, and analyses of water challenges these areas have faced and are striving to address, from salinization in the fabled Taklimakan Desert in China to land degradation in the northern Mediterranean to groundwater over-exploitation in the southwestern United States.
The book also examines desertification, remote sensing, qanat systems, architecture, arsenic contamination, and other case studies from Iran, the Maghreb region, Argentina and Chile, and Mexico. From this conceptual mosaic of comparative perspectives and research methods emerges a strong assumption: an interdisciplinary approach that combines physical and social sciences is the first step toward globally and comprehensively addressing water and sustainability.
"This book is a valuable and welcome contribution to the discussion of water and sustainable development. Through the collection of chapters, the book clearly illustrates the contemporary diversity of approaches to water scarcity and presents pertinent and new research findings that readers generally do not find compiled together. The result is a highly relevant, accessible, and timely resource that is unique in its international and interdisciplinary content. This is a must-read for anyone working on environmental and sustainability issues in arid lands."
André Mariotti, University Pierre et Marie Curie, and INSU - CNRS (National Institute for Earth Sciences and Astronomy-National Center for Scientific Research/Centre National de la Recherche Scientifique), France
"Anyone who reads this book will find himself or herself contemplating the need to rethink how we approach the issue of water and sustainability in arid lands. Drawing on the expertise of both physical and social scientists, the chapters taken as a whole present global, historic, and current perspectives on water scarcity in a multi-layered way that rarely has been done before."
Miguel Solanes, Madrid Water Institute, Spain
Keywords
Architecture
Arid regions
Groundwater
Traditional technology and infrastructure
Water
Water management
ecosystem
sustainability
sustainable development
Bibliographic information